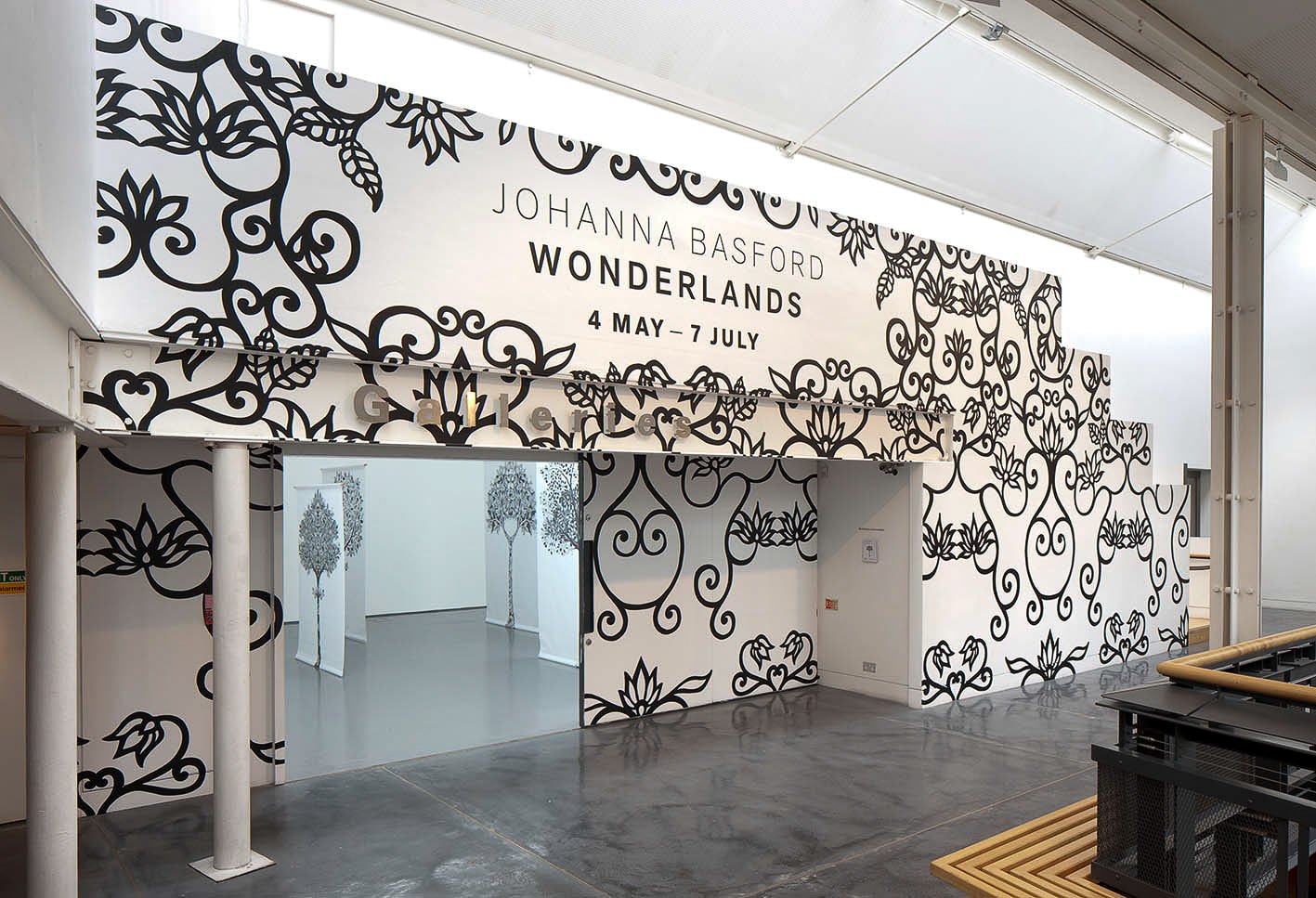 Artwork created by Johanna Basford; Wonderlands vinyl graphics in Dundee Contemporary Arts
Vinyl for almost every application
Adhesive vinyl is fundamental for general signmaking. Over years, continual advancements have broadened its use.
Nowadays, it's all around us on vehicles, windows, furniture, and countless other surfaces.
Opaque / solid colour vinyl

Many global manufacturers make coloured vinyl in hundreds of colours across dozens of ranges.
Most self-coloured vinyls for general signmaking are gloss finish. Fewer ranges are made in matt finish. Both finishes across various ranges differ in durability. With a wide range available for a variety of purposes.
Matt colours are generally warranted with up to three years exterior durability, with exception of matt finish vehicle wrap vinyl. Standard matt finish vinyl is popular for exhibition and interior displays, as glare is reduced on the face of the film.
Gloss colours are available with up to ten years exterior durability. Ten year vinyls are higher specification films and used for the most demanding applications, such as deep, contoured surfaces.
Generally, I use 5-7 year coloured gloss finish vinyl for most flat signs and standard vehicle graphics.
Translucent coloured vinyl
Translucent coloured vinyl is semi-opaque in matt finish. This vinyl allows bright light to shine through. Its ideally suited for backlit illuminated signage and built-up letters.
Coloured Transparent vinyl

Coloured, see-through vinyl is used mainly for colouring transparent glass, clear acrylic, and illuminated signage. There are several types of optically clear, coloured vinyl and all in gloss finish. They're suitable long term, both indoors and out.
Transparent / clear vinyl
Clear vinyl is used for over-laminating printed graphics and protecting surfaces. Its available in both gloss and matt finish.
Stone guard vinyl is a specialist transparent film designed to protect vehicle panels from stone chips and scuffs. Stone guard is available in varying thicknesses for flat and contoured surfaces.
Fluorescent vinyl

Fluorescent vinyl is typically gloss finish. It's especially effective during twilight and conditions with poor visibility.
Designed for impact, it's often paired with reflective vinyl for high visibility vehicle graphics. Generally applied to flat surfaces, higher specification films are applied over slight contours.
Reflective vinyl

Reflective vinyl is designed to be seen in dim-lit conditions and the dark. Strong light bounces off of the surface and reflects images, lettering, and directions.
Used mainly for road signage, vehicle graphics, and advertising. Reflective vinyl can also be digitally printed enabling artwork to be seen in the dark.
Photoluminescent Vinyl
Glow in the dark vinyl is ideal for fire exit signs and general wayfinding signage. The vinyl contains luminous pigments and absorbs natural and artificial light. The surface of the vinyl then emits a glow which effectively lights up the sign. This vinyl can also be digitally printed.
Metallic vinyl

Metallic vinyl is available in a wide colour range with gloss, satin, and matt finish. Not to be confused with chrome vinyl, metallics have a glittering surface.
Used with good effect on metallic painted vehicles, it has stronger legibility than opaque coloured vinyl.
Higher specification metallic vinyl is also available for wrapping vehicles. This film can be applied over deep recesses and contours.
Brushed metal effect vinyl

Brushed metal vinyl is a decorative film available in finishes such as bronze, silver, gold, rose gold, and champagne. It mimics real metal and can typically be used outdoors for up to three years on flat surfaces.
Mirror effect vinyl

Available in copper, bronze, chrome, gold, and rose gold. Standard signmaking mirror effect vinyl is suitable for up to five years on flat surfaces, in exterior conditions.
Vehicle wrap mirror effect vinyl is available in some colours too. This specialist film possesses a high gloss, mirror finish and can be applied over contours.
Holographic and iridescent vinyl

Both of these types of vinyl resemble the rainbow of colours when oil is poured on water.
Holographic and iridescent vinyls shimmer and colours shift when the vinyl is moved or the viewing angle is changed.
Suitable for flat and slightly curved surfaces, these films can also be used outdoors. An excellent choice for exhibitions, point of sale, and art installations, the vinyl can be applied for large background areas and the wrapping of flat panels. As well as cut lettering and graphics.
Pearlescent vinyl
Similar to metallic vinyl films, pearlescent finishes give a subtle colour change when viewed from different angles.
Especially attractive on vehicles, the pearlescent effect is also available as a clear laminate. The overlaminate enables a standard coloured vinyl to be turned into a pearlescent finish. Combining a base colour with the laminate creates a vast range of opportunities for special effects.
Pearlescent vinyls are suitable for exterior use and can be wrapped over contoured surfaces.
Glitter effect vinyl
With a range of colours in a sparkling gloss finish, glitter vinyl is available with or without a textured surface.
The fairy dust finish creates a magical effect for displays, point of sale graphics, and craft projects. Often used for interior projects, glitter vinyl is also available with ten year exterior durability.
Vehicle wrap vinyl

Vinyl technology was pioneered through the use of graphics on buses and trains. Vehicle wrapping was borne out of vehicle advertising and nowadays, vehicle wrapping is an industry of its own. Specially trained applicators have the skill to colour change vehicles in a huge range of finishes and effects. Incomparable to traditional auto body spray shops.
Vehicle wrap vinyl is also extremely pliable. Generally 1520mm wide, rolls can be applied to deep and contoured surfaces. With more opportunities than vehicle panels, wrapping vinyl is used on a host of surfaces. Such as kitchen transformations, domestic appliances and many more.
Carbon fibre vinyl

Carbon fibre vinyl has a chromatic effect in gloss, satin, or matt finish. As well as a selection of colours over a range of interior and exterior applications.
Applied to full or partial vehicle panels, it's also used for interior detailing. Such as handle guards, dashboards, and trims.
Sandblasted / Etched glass effect vinyl
Etched glass vinyl provides privacy on panes of glass. The surface of the vinyl obscures vision and diffuses light. Available in varying degrees of solidity, ranges also include crystal finish effects.
Incorporating text, logos, and images into etched effect vinyl produce subtle signage. As seen on window graphics around retail and leisure districts.
Ideal for eye-level signage on shop and office fronts, etched effect vinyl can also be full colour printed.
Glass decoration vinyl

In essence, glass decoration vinyl is a thin transparent film with a range of designs etched into its surface.
The film is used for privacy and interior styling. Transforming large panes of glass into sandblasted, crystal, and even fabric finishes. The films are durable with a range of exterior options.
UV solar protection film
Solar vinyl is a very thin film designed to reduce or block solar glare. Used for both privacy and decoration, solar vinyl is available in a range of colours. In addition, the solar film is available with one-way vision. This vinyl allows vision through one side of the glass.
Mirror effect finish is also available and films can be applied both indoors and out. These films enable different levels of transparency on glass and transparent surfaces.
Perforated vinyl

Commonly referred to as Contravision; perforated vinyl's main use is for application to flat transparent surfaces.
The adhesive side is typically black or dark grey. Its most often exterior applied. This enables vision through the (interior) adhesive side. The face of perforated vinyl can be full colour printed or standard white.
Widely used on public transport vehicle advertising, perforated vinyl is durable for exterior applications. It's often combined with a gloss laminate for longer protection.
Static cling vinyl
The main benefit of static cling vinyl is its ability to be removed without any gum residue left behind. The film does not have an adhesive side and is applied onto surfaces using liquid. Ideal for shop window displays.
Static cling vinyl can be full colour printed. With either opaque text and graphics, or see-through vision. Its easily repositioned and can be reused on both sides. Some cling materials can also be applied to brick, wood, plastic, metal, and many more surfaces.
Architectural finish vinyl
An extensive range of finishes realistically replicates effects of natural materials and patterns.
Textured, satin, fabric, brushed and prismatic vinyls open opportunities for a wide range of surface transformations. Through window frames, doors, furniture, and walls, architectural vinyl films are available for interior and exterior use.
They're extremely durable and stand up to regular cleaning. Adding style and appeal to aged or standard finishes.
Woodgrain vinyl

With many wood finishes to complement almost every setting, woodgrain vinyls are durable films designed for large areas.
Walls, doors, worktops, furniture, and panels can be wrapped leaving barely visible seams. The films can be applied over slight contours and some are manufactured for exterior use.
Especially beneficial for replicating the look of real hardwood paneling without the environmental impact. Woodgrain vinyl is a wise choice at a fraction of the cost, labour, and excess waste of real hardwood.
Whiteboard and blackboard vinyl
A simple and effective way to turn a flat surface into somewhere to write upon. Both whiteboard and blackboard vinyl is available in rolls up to 1370mm wide.
Dry-wipe cleaning can be used on the surface of whiteboard vinyl. As well as options for chalk or liquid chalk marker pens for use on blackboard vinyl.
Each has an option with magnetic properties. This enables magnets to stick to the surface in addition to writing with marker pens or chalk.
Blackboard vinyl is also available for exterior use and is a popular choice for pavement signage and changeable messages on sign panels.
Interior décor vinyl
Marble, stone, metal, fabric, and leather finishes are available in rolls of adhesive vinyl. Ready to apply to flat and slightly curved surfaces, such as furniture, rails, walls, and glass.
The surface of each vinyl is textured, mimicking the real thing. Interior decor vinyl has a large range to choose from, in a variety of colours and finishes.
Digitally printed vinyl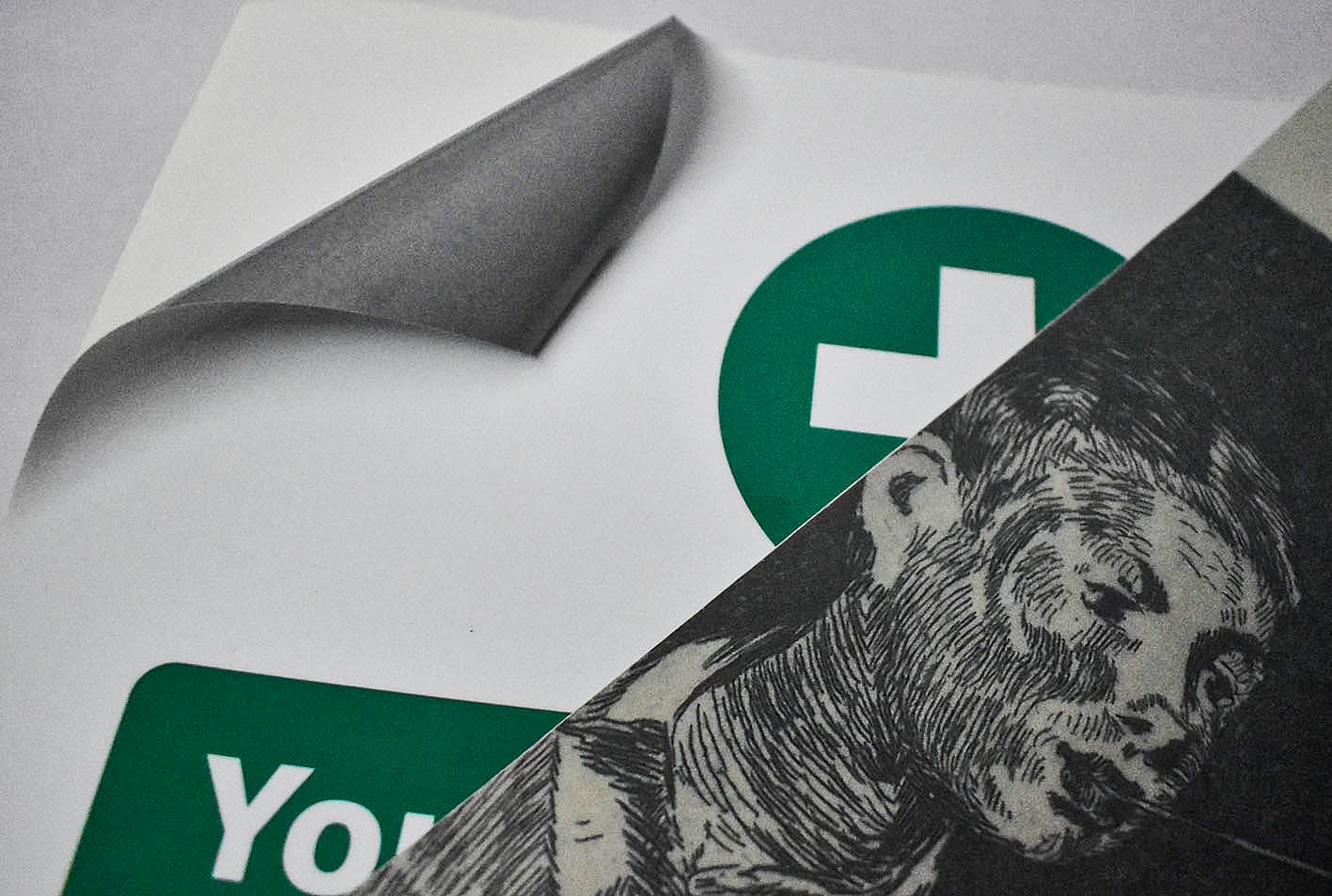 Digitally printed vinyl graphics are applied to countless surfaces.
Rolls up to approximately 1500mm provide blocks of printed colour, as well as cut text and graphics. Available with gloss or matt laminated finish.
Perfect for photographs, complex visuals, colour blends, and specific colour matching. Digitally printed graphics can be opaque, semi-opaque and transparent.
Floor vinyl graphics

Both interior and exterior floor vinyl is available for smooth and textured surfaces. These films can be digitally printed with full colour text and graphics, as well as cut to shape.
Used extensively for safety, social distancing, wayfinding, and point of sale. Floor vinyl graphics also provide plenty of advertising opportunities.
Anti-slip laminates are recommended. The laminated surface can be matched to R ratings for use in high traffic and slippery environments. Recommended for kitchens, marine settings, and around swimming pools.
Textured surface vinyl
Low energy surfaces such as rough, exterior walls can be turned into a sign using high tack vinyl.
Durable exterior films can be full colour digitally printed with matt or gloss finishes. Or used for cut vinyl graphics as a standard, semi-gloss white finish. These films are applied with heat and will remain on the most challenging of surfaces in exterior environments.
Most vinyl manufacturers supply vinyl rolls in approximately 600mm and 1200mm width. As well as wider rolls approximately 1500mm for vehicle wrap vinyl and specialty films.
All films described are subject to availability. They can be supplied and installed as full rolls or cut vinyl graphics in Dundee and surrounding areas.
To conclude, vinyl manufacturers continually design new films. Increasing their product range and potential. Many vinyls are for specialist application and as such, understanding each vinyl's characteristics and life terms is vital for their success.
With so much to choose from, there's a vinyl colour and finish for almost every project's specification. Viewing of samples is available on request.
Need advice and a quote for your vinyl graphics in Dundee? Get in touch to find out more.