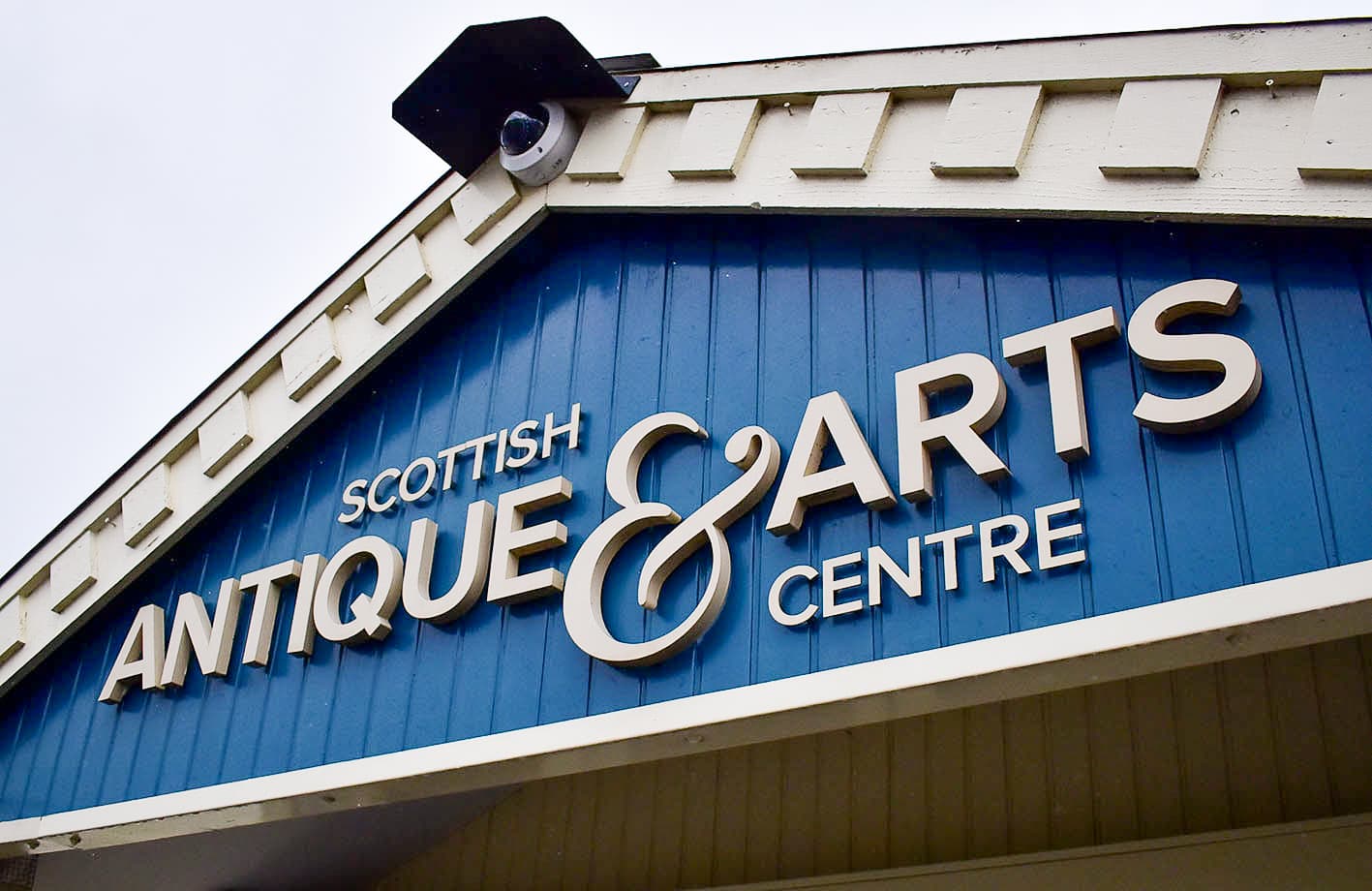 Sourced from specialist manufacturers, I supply and install 3D letters in Dundee and the surrounding region.
Outsourcing provides my clients with access to the widest range of shaped and structural signs in the UK. I work with manufacturers operating the latest technology to create built-up and flat-cut letters. Doing so enables me to focus on your sign's design and managing your project.
Outsourcing to experts also provides my clients with comparative options for realistic prices.
Which type of raised letters is best for your business?

There are lots of materials to choose from. Metals, plastics, woods, and composites, in varying thicknesses, colours, and finishes.
A good place to begin is for you to decide the style you want your sign to convey. 100mm thick, stainless steel with LED lighting, will express a different feeling to 10mm thick, glued-on plastic letters.
It's wise to establish your budget too. Often, larger and/or thicker letters will cost more than flatter letters. Illumination and other add-ons such as specialist finishes will increase costs.
Location and positioning are also important. Raised letters appear dimensional when they're visible from all angles. Otherwise, save your money and opt for flat panels.
Planning consent may also be required for raised letters and 3D signs. Depending on the location and any previous signage on or near the premises, your local authority may want to know. Check with your landlord or council planning department if you're unsure about permission for exterior signs.
Flat cut letters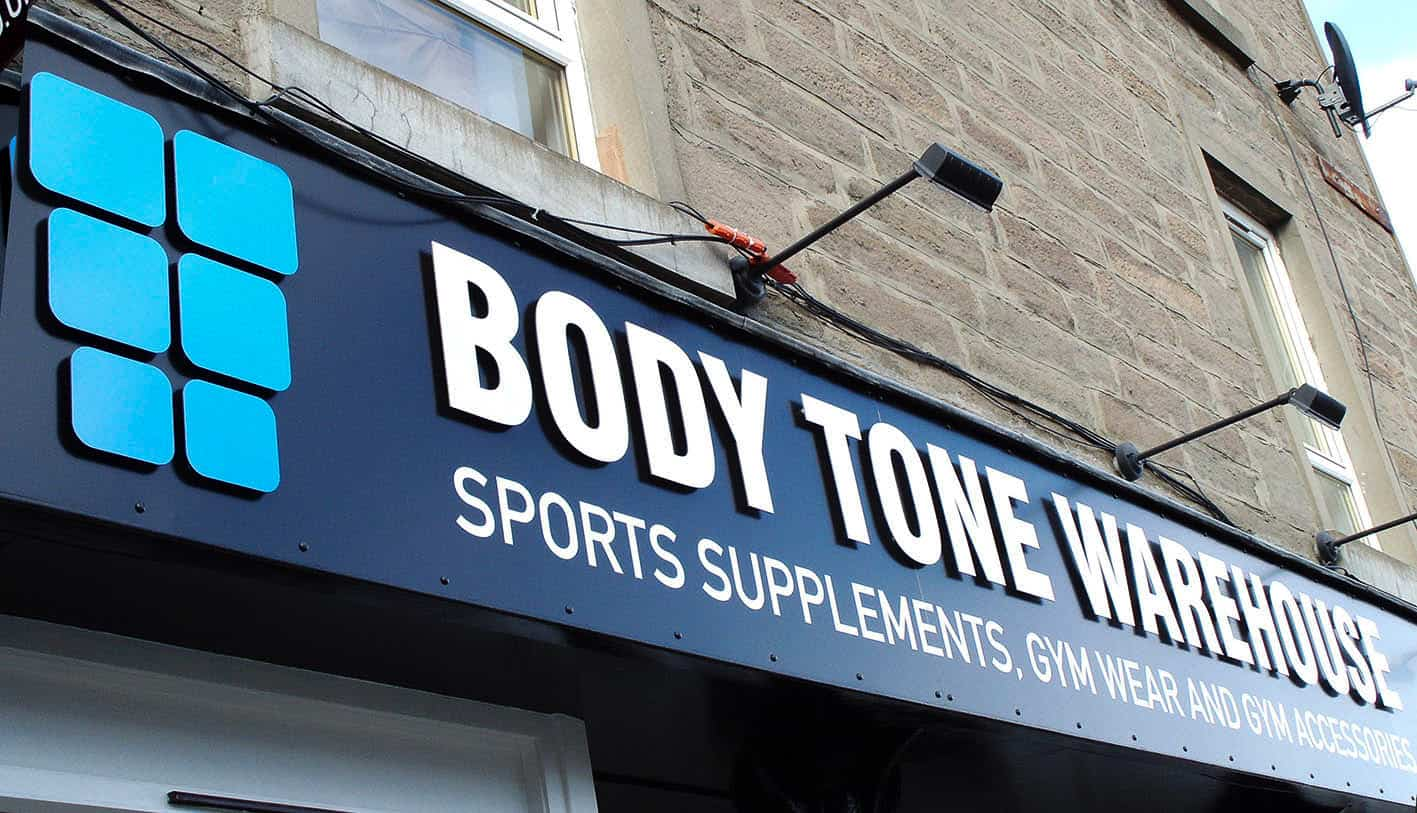 Flat cut letters are individually cut out from sheets of substrates. Commonly shaped on CNC routers, as well as laser and water jet cutters.
Often, flat cuts adhere directly to a smooth surface. Or protrude from the surface with studs, rods, or packers.
Flat cuts can also be layered. Separate layers glued together make thicker letters. Or different coloured outlines, shadows and background panels are added behind the flat-cut letters.
Flat-cut letters and shapes can be installed directly onto surfaces with adhesive tapes or glue. Or with stud locators. The studs protrude the letters off of the background to make them appear as if hovering in front of the surface.
Aluminium letters
Aluminium sheets are available from less than one millimetre thick. Aluminium is non-corrosive and is a sensible choice for marine environments. Aluminium's key benefit is its strength in comparison to its weight. Flat-cut aluminium letters are often spray painted or powder coated. They can also be covered with vinyl.
Aluminium composite is typically three millimetres thick. The substrate has a dense plastic core, sandwiched with very thin aluminium. Available in a limited selection of factory finish colours with options of brushed and metallic effects, aluminium composite can also be painted or covered with vinyl. Compared to other substrates, it's more cost efficient with most a/c materials suitable for exterior environments.
Steel, brass and copper letters
Brass holds well in most exterior environments. It'll turn darker over time but will not corrode. Preferable for coastal environments, brass lettering can also be lacquered to extend its lustre.
Copper is similar to brass but not as robust. Exposed copper in exterior conditions will also darken over time and can be lacquered to prevent the metal patina. Alternatively, mirrored finish vinyl is applied to the face of other substrates to mimic a copper finish.
Mild steel flat cuts are ideally suited when welded to frames, rods, or structures. Less expensive than aluminium sheets, mild steel must be painted for durability in exterior environments. Although heavy, mild steel is a good option for fixing letters into stone.
Stainless steel is extremely durable. Polished and brushed effects make for a classy looking sign. Marine grade stainless steel also provides greater corrosion resistance and is a wise choice for coastal environments.
Gold finish stainless steel is a not-so-common sheet material. Available in a satin or polished finish, it's durable and weatherproof. Often used as architectural cladding, the material can be laser cut into letters and fixed flat or raised off of the surface. A real head turner with a gleaming effect.
Plastic Letters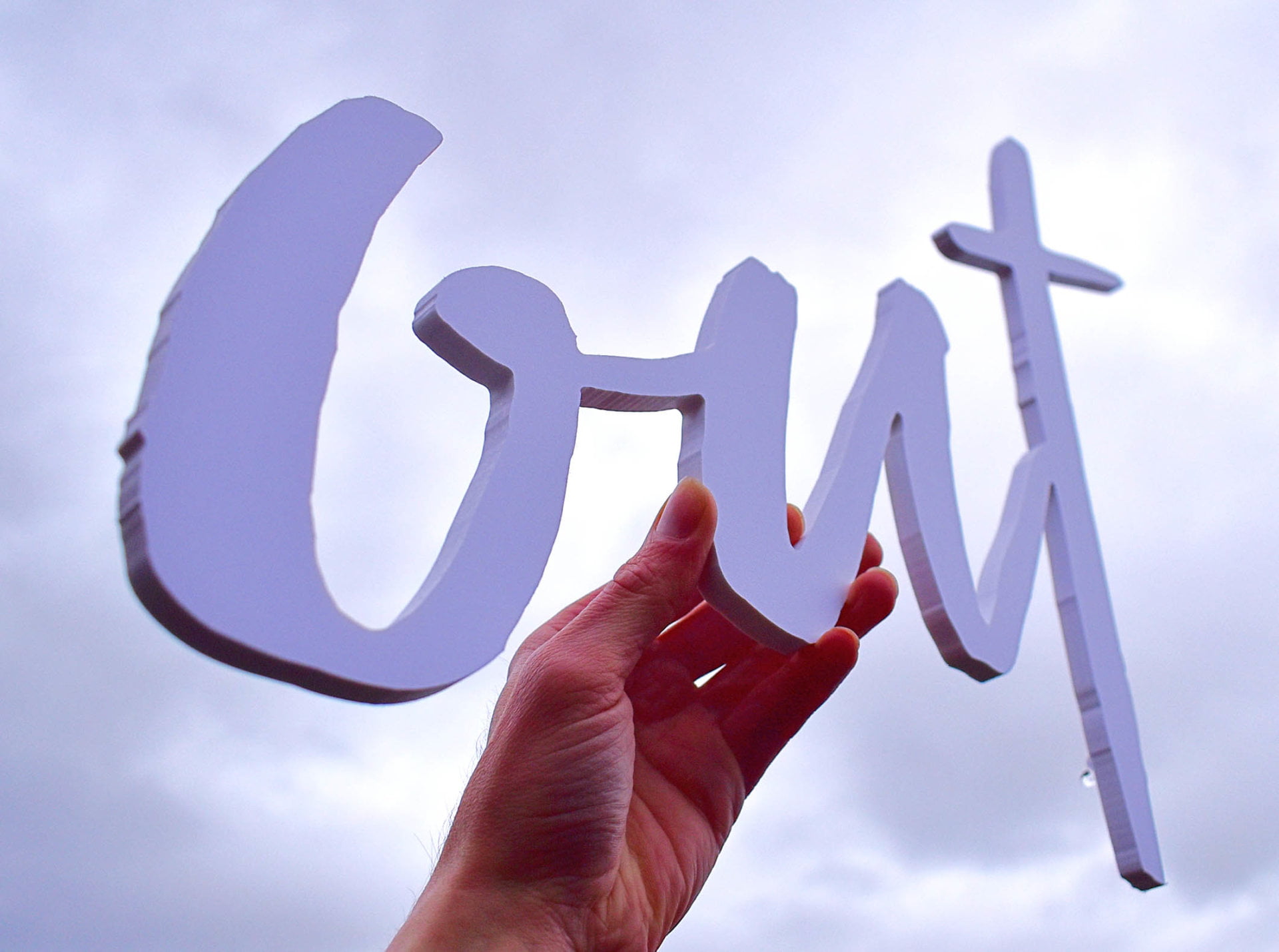 Acrylic is a hard, rigid plastic available in a large range of thicknesses, colours, and finishes. Commonly known as Perspex, cast acrylic is often fixed to fascia signs with stud locators. Acrylic performs well outdoors and has a super smooth finish. Gloss acrylic is easily tarnished and care is necessary for maintaining the materials' finish.
Foam PVC (commonly known as Foamex) ranges up to 19mm thick in a limited selection of matt and gloss colours. Lightweight and ideal for interior spaces, foam PVC flat-cut letters can also be painted. Their key attribute is simulating built-ups at a fraction of the cost. Although weatherproof, foam PVC's drawback is that it tends to expand and contract in extreme temperatures.
High density urethane (HDU) is somewhat of a wonder material. It can be shaped, carved, and sandblasted for amazing signage. HDU is weatherproof and almost always painted for maximum effect. Especially impressive for landmark signs
Polystyrene flat cuts are super lightweight. They can be cut and shaped from blocks, providing thicknesses that are more difficult to achieve with other substrates. Polystyrene can also be finished with water based paints and built into structures.
Wooden letters
MDF is in essence, compressed wood fibres. Its structure is held together with glue. Veneered MDF flat cuts' main benefit is mimicking hardwood finishes at a much lesser cost than real hardwood. Ideally suited for interior environments, MDF requires extra attention when painting. Edges must be coated and sanded to avoid the fibrous core shining through. Exterior waterproof MDF is also available and will cost more.
Plywood flat-cut letters are available in varying grades and thicknesses. Exterior, marine grade plywood is advised for outdoors display and conservation area signage. Plywood can be stained or oiled to enhance the appearance of the wood grain. As well as painted in gloss, satin, or matt finishes.
Mirror letters
Mirror finish flat-cut letters can be made using rigid substrates, covered with mirror finish vinyl. Chrome, mirror gold, mirror rose gold, and a modest selection of brushed and glitter effect vinyls are available. Mirror finish vinyl has a manufacturers' expected lifespan, of up to five years in exterior conditions.
Built-up letters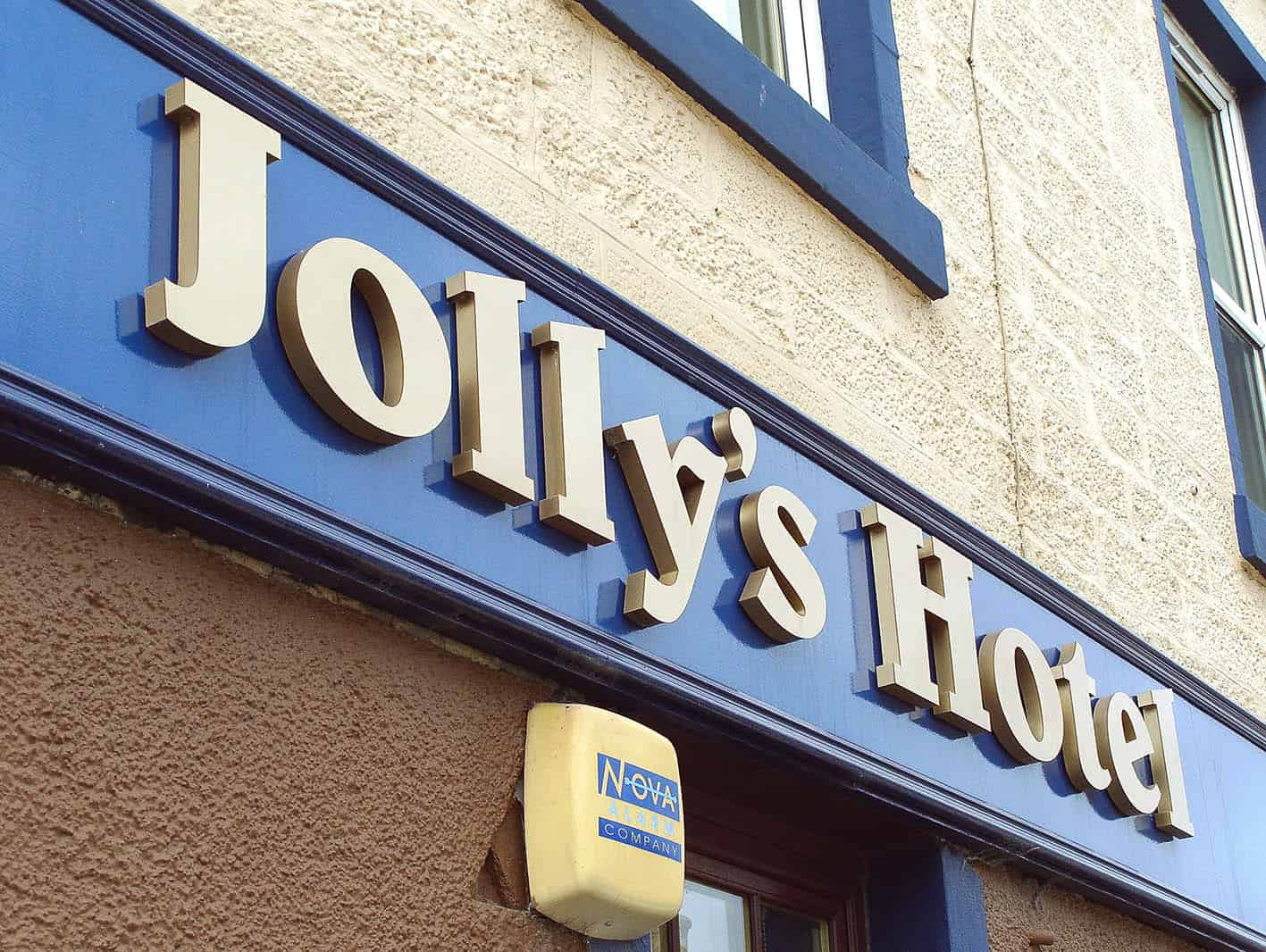 Built-up letters and shapes start as flat-cuts. The flat-cuts are the faces of the built-ups. The edges (known as returns) are added to the back of the flat-cuts by either welding or bonding strips of a substrate to the faces. The returns add depth and the dimensional effect.
In some circumstances, different materials have to be used to create the return. This depends on the substrate chosen to make the built-ups.
As such, not all of the above listed substrates can be made into built-ups.
Making 3D letters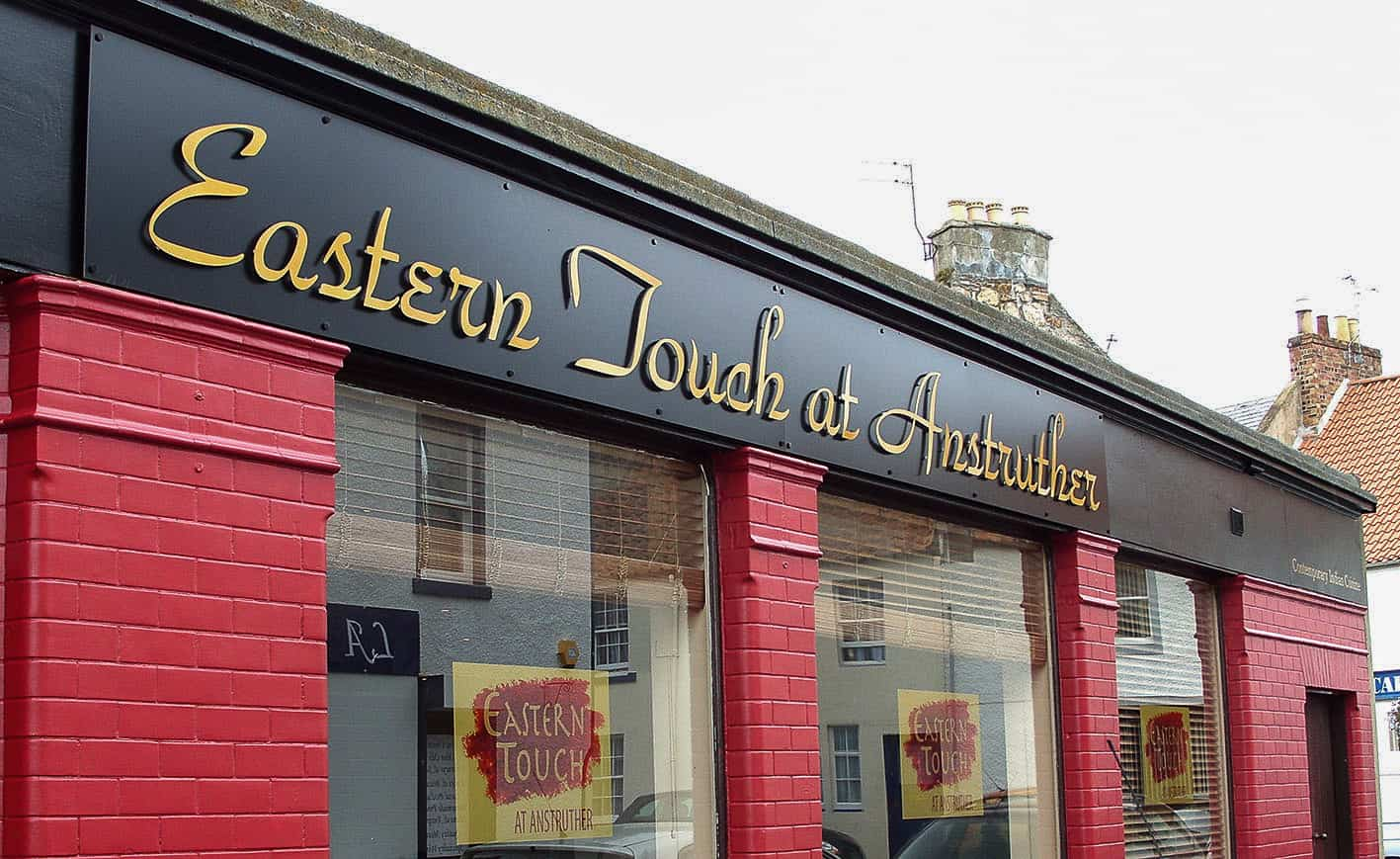 There are also size and line width limitations when creating built-up letters and shapes.
Attaching returns to small or intricate letters may not be practical. Small and intricate shapes and letters can be made to look like built-ups by layering flat-cuts. This option often costs less than adding returns to the flat-cuts' faces.
Plugs or threaded studs are attached to the backs of the built-ups. These pair with cylindrical fixings which are attached to the sign panel or sign surface. With no visible fixings, built-up letters appear as solid structures.
There are lots of finishes and special effects which can be added to built-up lettering. However, their simple, bold form holds authority and creates impact.
Moulded letters
Moulded letters are single pieces of shaped acrylic. Flexible acrylic sheets are pressed between moulds to create the protruding letter.
Bevelled and prismatic moulds make the letter appear carved or chiselled. Additionally, the letters create their own shadows which can be emphasised with metal leaf or specialist paints. These finishes can mimic the appearance of solid gold or stone. Specialist paint finishes such as textured effects can also be applied.
However, due to manufacturing processes, there are limitations with moulded letters. The main drawback is a narrow selection of moulds. This limits the choice of typefaces available.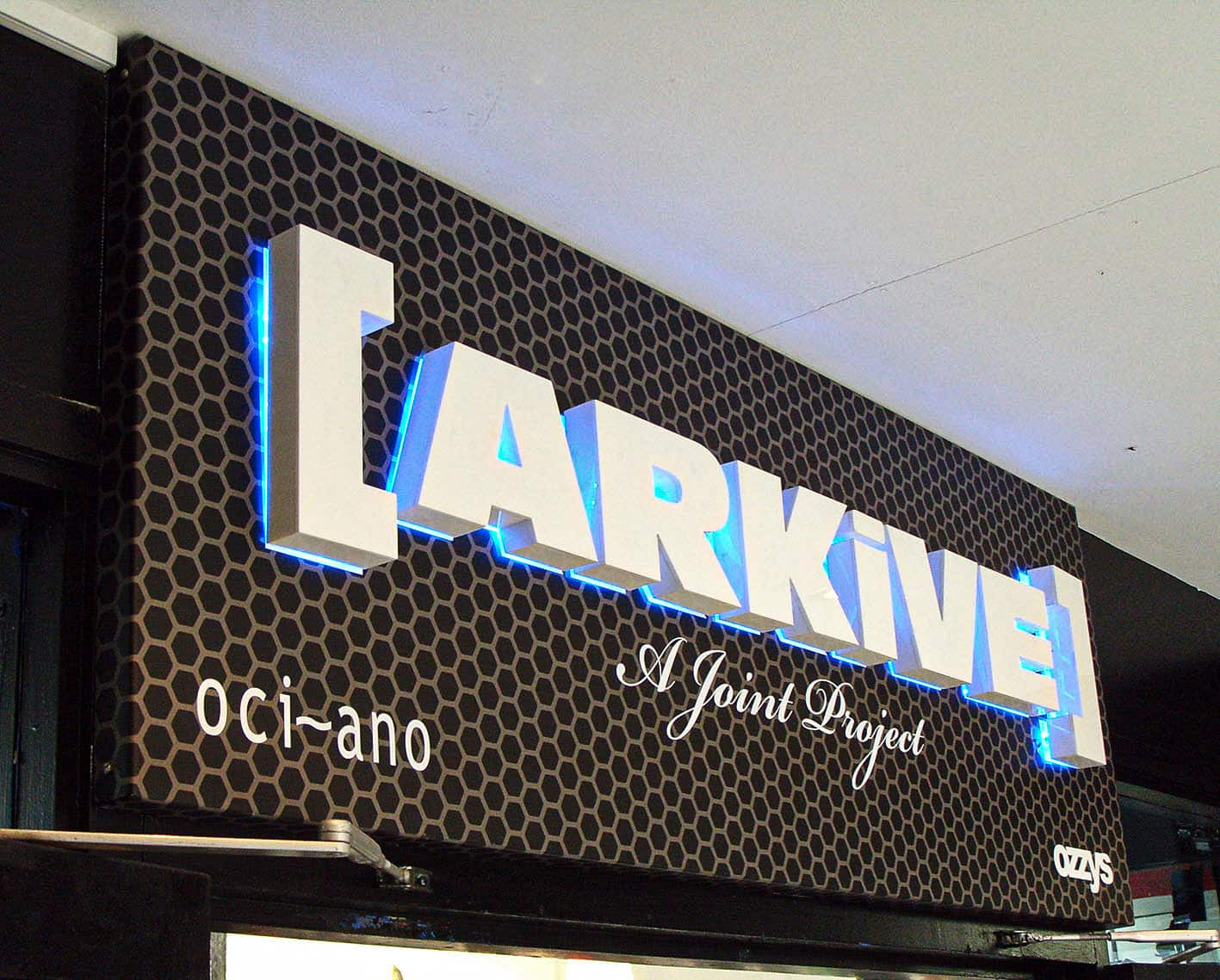 Illuminating 3D letters
Adding illumination to letters increases the visibility of the sign in dimly lit areas and when it's dark.
Choosing which type of illumination for your sign is influenced by the type of 3D letter.
Face lit letters are acrylic. Flat-cut acrylic letters are made to fit into sign trays. Either flush with the face of the tray, sunk in or protruding.
Built-ups with illuminated faces usually have metal returns. LEDs are sunk into the sign tray or inside the built-ups.
Halo lit letters provide a ray of light around the backs of the letters. The faces of the letters are opaque and don't allow light through. This creates a soft glow effect with the LEDs pointing at the surface to which the letters are fixed.
Combining both face lit and halo lit is also an option.
LEDs can be almost any colour or mixed. The illumination can complement the colour of the letters, signs, and your business identity.
LEDs are suitable for exterior environments and are also energy efficient. They last much longer than conventional tube lighting too. Controllers can be included to adjust the type of lighting you prefer, whether constant, flashing, or multi-coloured.
To conclude, dimensional letters and shapes have more presence than flat signage. They level up your signs and add interest to your business's visual identity. 3D signs will communicate your message with strength and make your business signage memorable.
Make your signs work for you. Visit here to learn more.
Need advice or a quote for your 3D letters in Dundee? Get in touch to find out more.