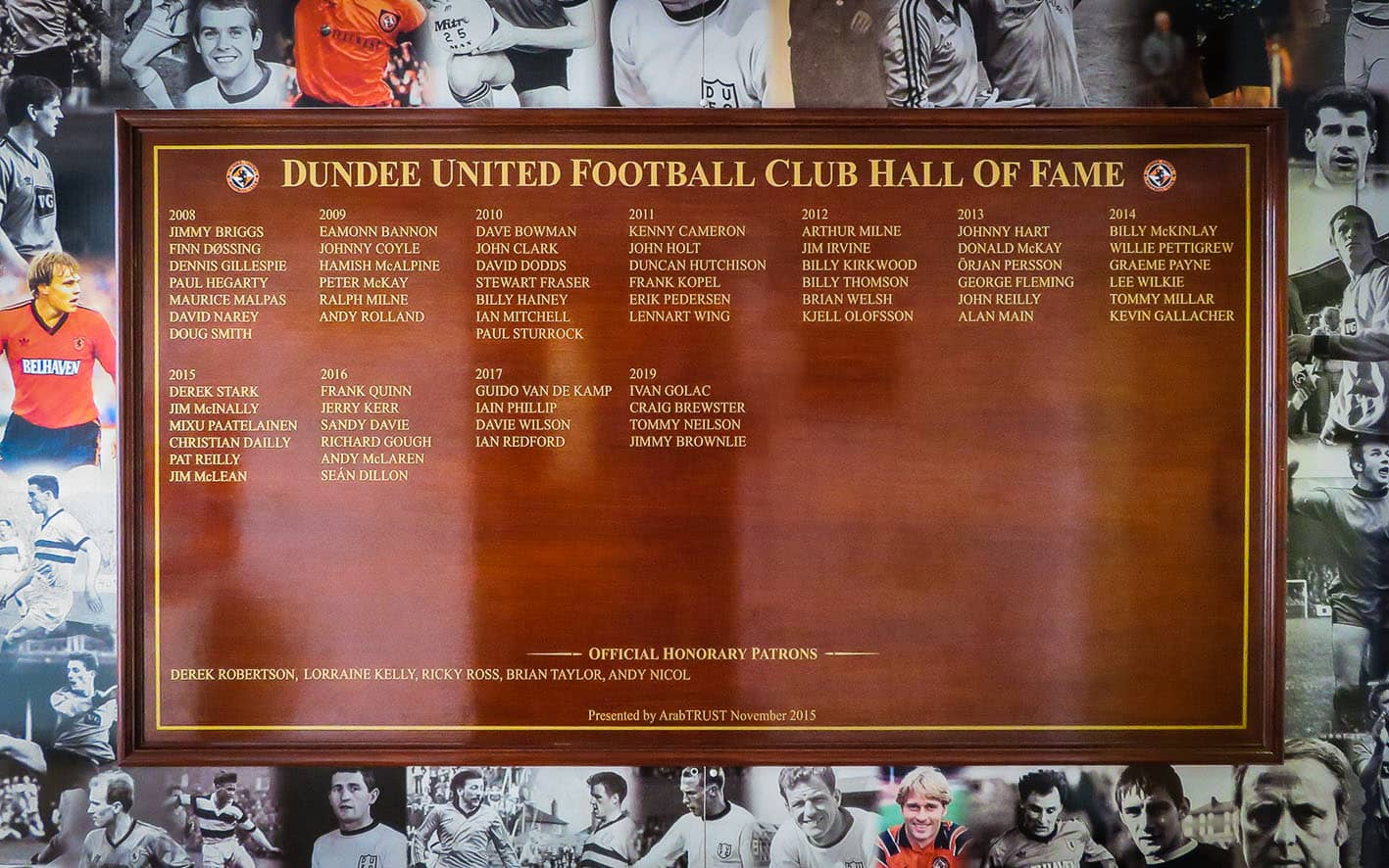 Honours board in Dundee United's hall of fame
Why choose an honours board?
Honours boards celebrate, commemorate and display achievements worthy of note for the rest of time.
Ideal for sports organisations, schools, civic buildings, and the armed forces, as well as private clubs. Honours boards pay tribute to members past and present. They're always a talking point too.
Stories are told, chronicling the pride of victors and the organisations' heritage. Winners are rewarded with their name on the coveted board for all to admire, forever.
Types of honours boards
Traditional honours boards are made from wood. Veneered plywood sheets are selected with a fine woodgrain and stained to contrast with the lettering and features. Hardwood mouldings are often bevelled, routered, and layered for framing the plywood panel.
Shaped boards with multiple corners, curves, and dimensions add more appeal than flat plywood rectangles. Often, mouldings are stained darker to make the face of the honours board rise. Once varnished, stained woodgrain possesses natural beauty in either satin or gloss finish.
Reclaimed wood and hardwood batons are also used for more peculiar honours boards. From boat transoms to columns of cricket bats, re-using wood that has meaning to the organisation evokes a personal touch.
Contemporary honours boards use brushed finish sheet materials, as well as transparent acrylic. Considering the surrounding décor can influence the style of board and create a new piece of bespoke furniture.
Engraved panels can be filled with paint and gold leaf, creating depth and grandeur on a standard flat panel.
Designing an honours board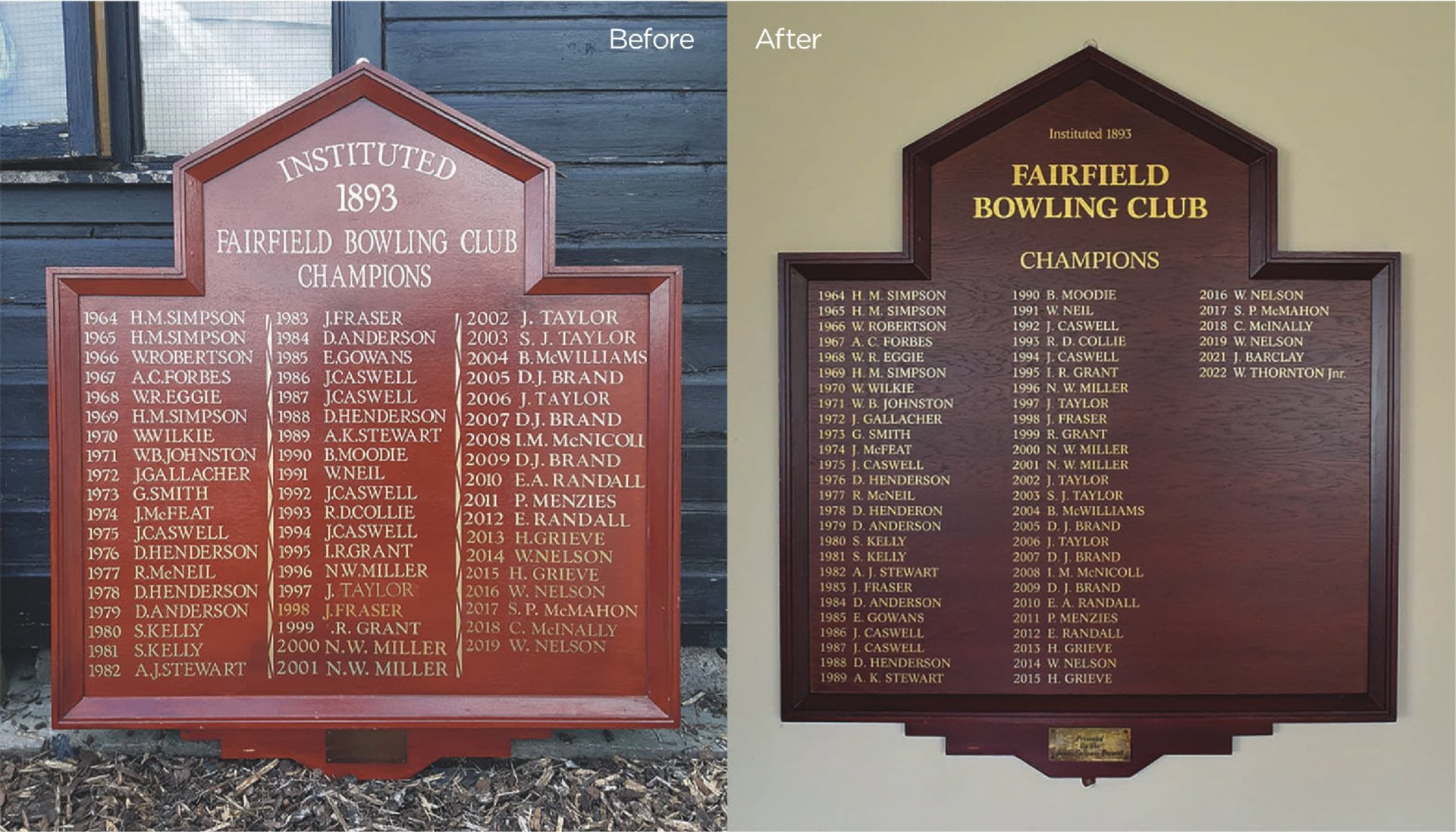 Once the size, shape, and materials are determined for a new honours board, artwork is created for approval.
Typefaces are important. And not just for legibility. Choosing an appropriate style of letter to convey the honour is crucial for the impression the honours board will make. The honours deserve to look like they're worth competing for.
Formatting the content of the board is important too. Calculating letter height and spacing in relation to a full column of names will avoid empty spaces when the board is nearly full. Not to mention, correct use of grammar and abbreviations.
Contrast is fundamental to the appeal of an honours board. They're made to be looked at. Lettering, background colour, and ornaments should all be in harmony with the environment that the honours board is located.
Club badges, crests, and heraldry add further visual interest to a bespoke honours board. They can be made full colour or monotone. As well as decorative lines and scrollwork emphasising the beauty of the presentation.
Installation
The fixing surface of the honours board determines its size and weight. Understanding the weight which the surface can hold is vital before choosing materials and manufacture.
Fixings can be hidden, disguised, or part of the honours board design. Brass finish mirror fixings complement dark stained wood and gold. As well as stand-off brackets, which protrude panels from the fixing surface. These add further dimension and appeal to the display.
Adequate lighting is also important for the look of the board. Delicate lighting will enhance the presentation in dim-lit interior areas.
Adding to existing boards
Consistency is essential with annual additions on honours boards. Matching fonts, spacing, colours, and sizes is crucial for a coherent look.
Additions can be added by hand lettering, gold leaf, or adhesive vinyl.
Existing boards can be refurbished once boards are full. If space or your budget is limited, wooden boards with mouldings can accept thin plywood panel inserts. The content of the honours board can be re-formatted to enable extra room for future additions.
Visit here to see how an honours board is painted. And visit here to see a finished board in its home.
Need advice and a quote for making or adding to your honours boards in Dundee? Get in touch to find out more.