Multi-coloured window film in Dundee's V&A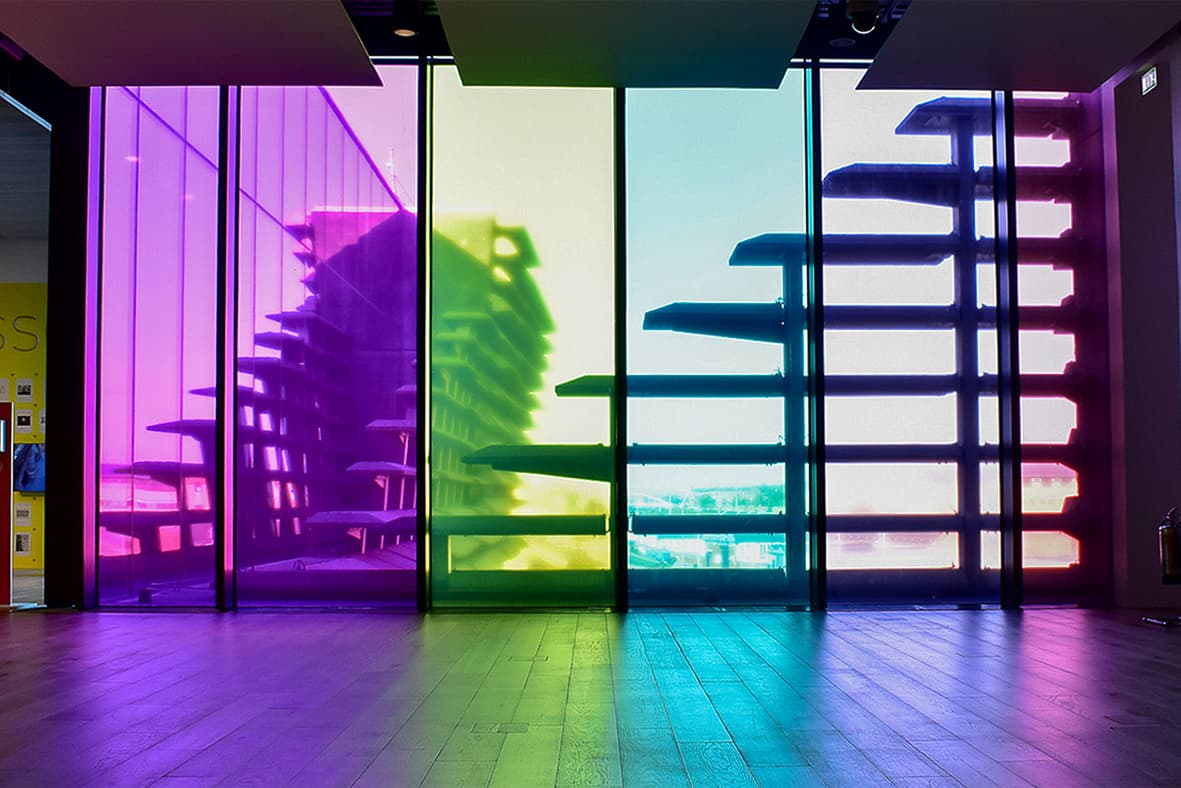 V&A Museum of Design Dundee's major exhibition in 2021 was Night Fever: Designing Club Culture. 1960 to present.
Opened on 1st May, Night Fever delved into iconic nightclub design across the globe.
Exhibition builders, Factory Settings contacted me during the summer of 2020 and sought advice for window graphics in Dundee's landmark museum. Inspired by the legendary Berlin nightclub, Berghain, six interior windows at the gallery entrance were transformed. The windows' colourful concept was the idea of designer, Daniel Streat.
Setting the tone for what was to come, the window graphics intelligently convey the clubbing experience.
The project brief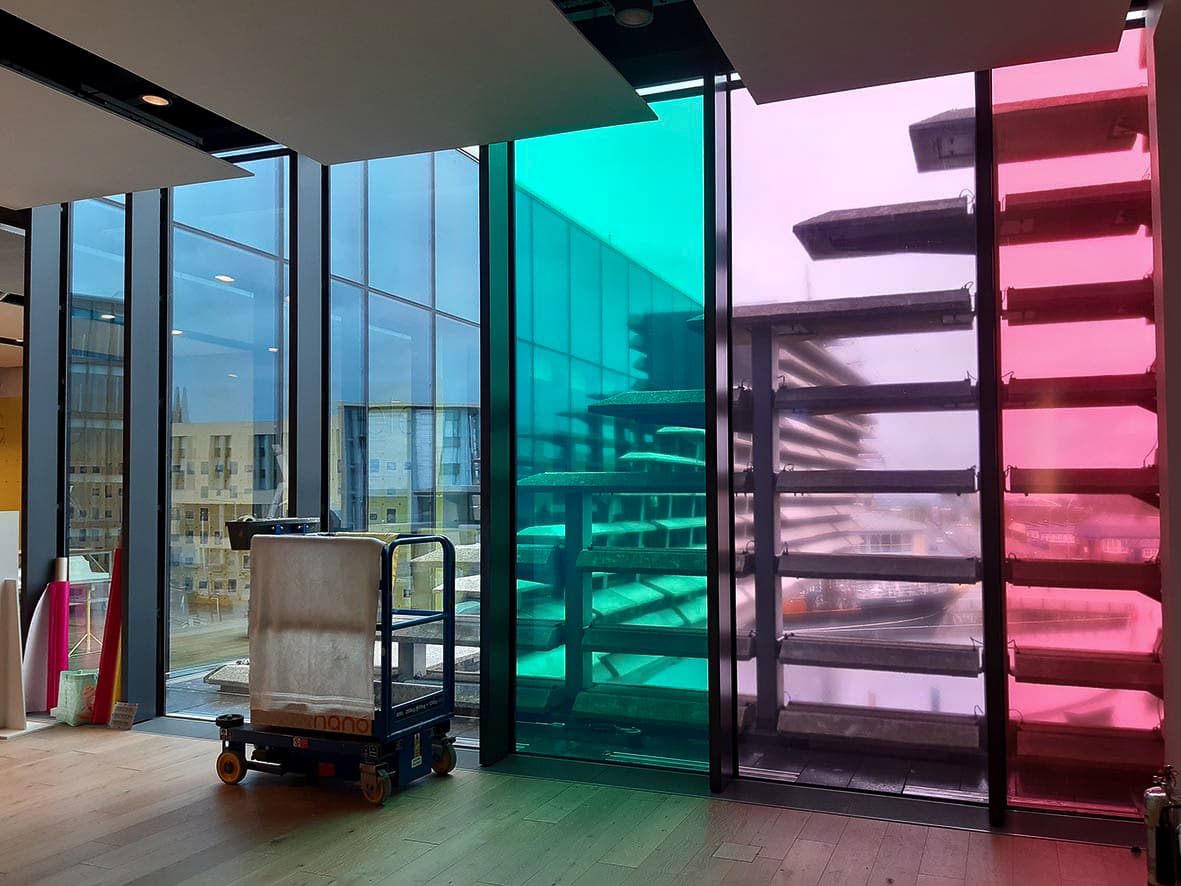 Six window widths ranging from 800mm to 1445mm and at over 4m in height are partitioned with vertical beams. The beams restrict movement for applying vinyl to the windows, and a suspended ceiling is in line with the top of each pane. In addition, rubber seals surround the vertical and top edges of each pane.
Colours had to be a close match to Daniel's colour palette, as well as being see-through. Transparency is essential for visitors to look through the glass without obscuring the view. As well as allowing daylight to flood through.
Access equipment would be used for applying the window graphics. What's more, the vinyl had to stay in place for approximately six months with ease of removal once the exhibition ended. Samples were requested to ensure colours and opacity were as envisaged.
Choosing colours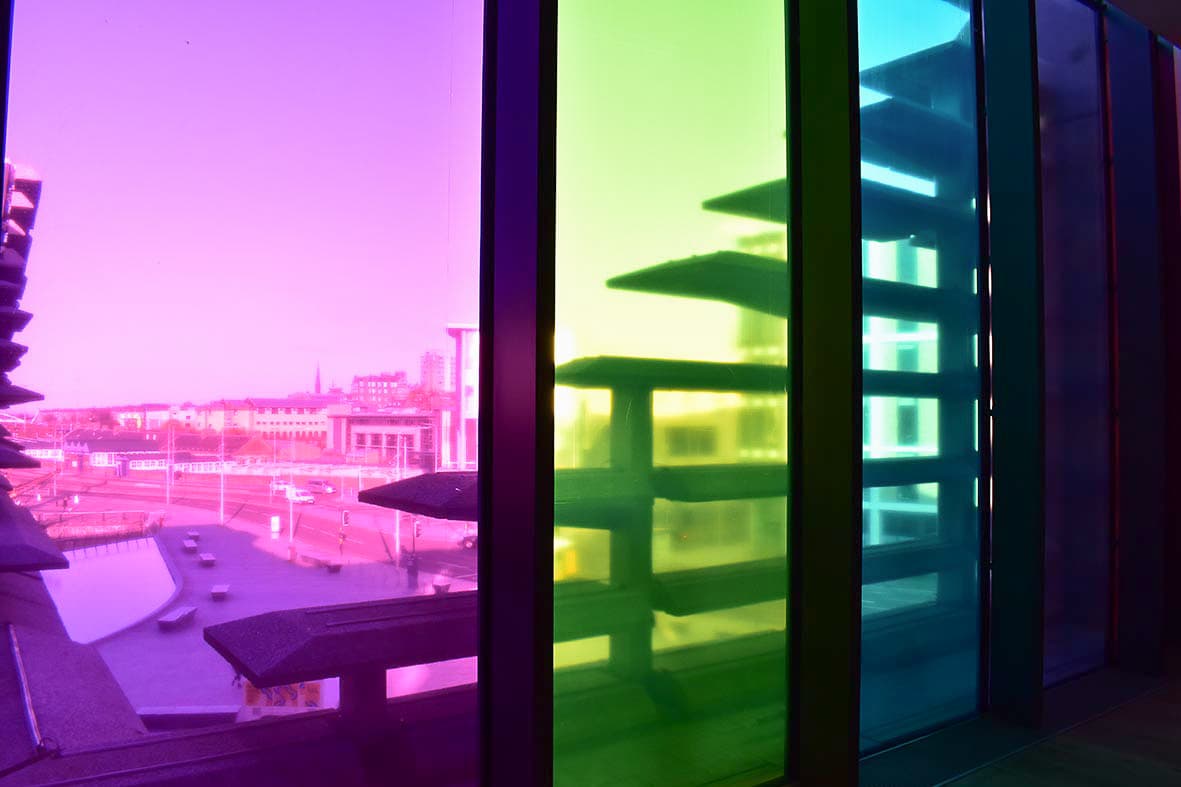 Following our initial conversation, Factory Settings selected five transparent colours from German vinyl manufacturer, Orafol. As such, these ensured the five colours closely resembled Daniel's selection.
Orafol's semi-opaque vinyl film has a solvent adhesive and is used extensively on glass. The vinyl has a strong initial bond and will last indefinitely indoors. However, Orafol's transparent vinyl roll width is 1260mm.
Often, vinyl is overlapped when covering areas wider than the roll widths. Overlaps disguise the vinyl's inevitable shrinkage. From experience, I knew that overlapped vinyl seams would be visible on the glass.
Importantly, I was also concerned with the removal of the window graphics after the exhibition's term. Most solvent adhesive-based vinyl adheres tightly to glass and can leave gum residue upon removal. Chemicals dissolve and clean the gum, which is a messy, odorous task. The prospect of scraping almost thirty square metres of gum from the glass was not an option I was prepared to risk.
The vinyl had to tick several boxes and my research began in late November 2020.
Research and testing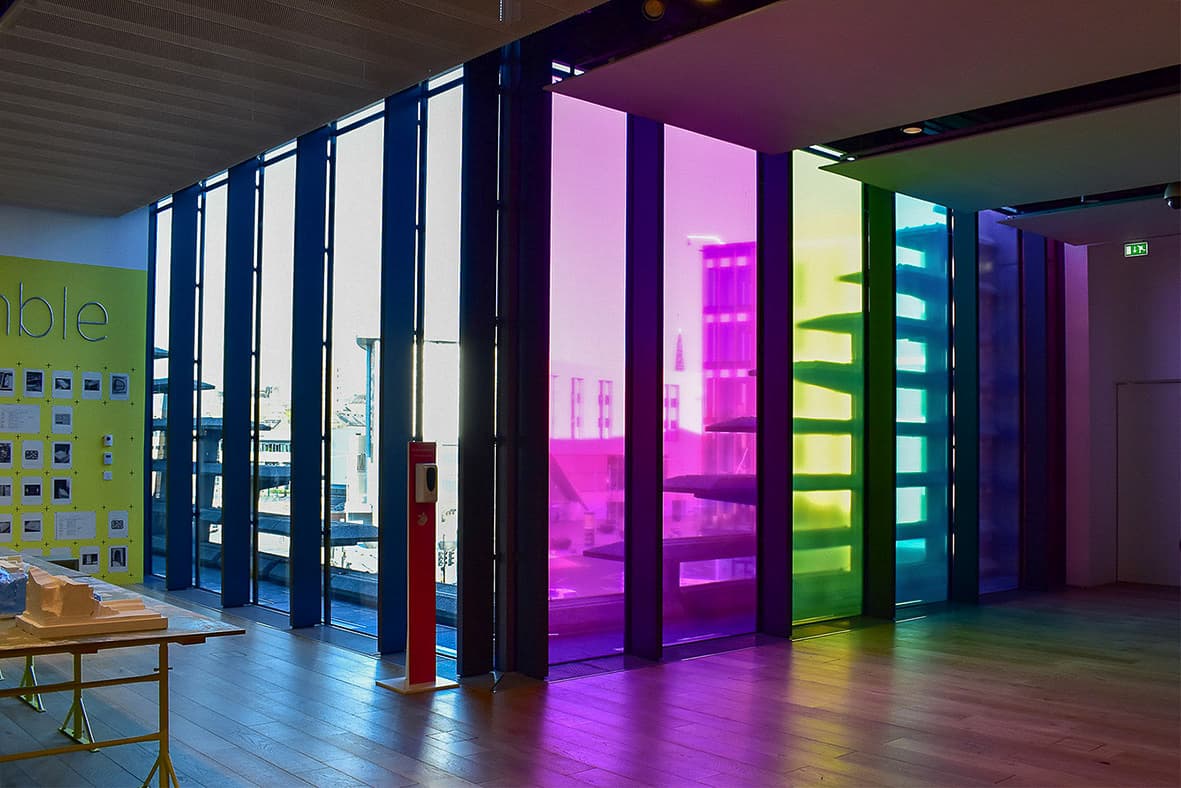 Sourcing materials during the UK's 2021 lockdown continued, with uncertainty and Brexit hindering stock levels. I contacted nineteen different distributors in the UK, as well as a manufacturer in Germany over several months. Subsequently, asking lots of questions and studying technical specifications.
Colours, transparency, roll width, adhesion and application all were factors. Colour samples were matched and printed on different films. Off-the-shelf transparent vinyl was sampled too. There wasn't a one-size-fits-all vinyl available.
I was thinking of alternative ways to turn the windows into colour. Transparent coloured panels, fabrics and polythene were all considered. But I kept returning to one viable material.
Selecting the window film
During my research, I learned more about static cling films. The film has no glue adhesive. It's designed to bond to the glass and remove without any mess. The film can be digitally printed and is available in wide rolls.
Through my network, I connected with David Winter, a printer at Point Media Creative in Glasgow. Point Media have an array of wide format printing equipment. Capable of printing onto the wide rolls I was trying to source.
David and I discussed and developed the project over several weeks. Sampling materials, altering, then trying again. I visited V&A Dundee with a selection of printed static cling colours and applied these to the glass. The curatorial team approved this method, and with some adjustments, I was ready to proceed.
Printing the static cling
Matching the colours without affecting transparency was problematic. More ink printed onto the film provided a better colour match. However, more layers of ink made the film more opaque.
Furthermore, I discovered that the wide rolls of static cling were out of stock. Two distributors who stocked the wide rolls didn't know when more would become available. I couldn't source the wider rolls anywhere else. With the exhibition opening date nearing closer, the project was beginning to fall apart.
A second potentially suitable film became available. This film also had a no-glue adhesive and was available in wide rolls. Five metres were ordered and test printed but the colours were too dense. Light barely came through.
Then a miracle happened.
Applying the window film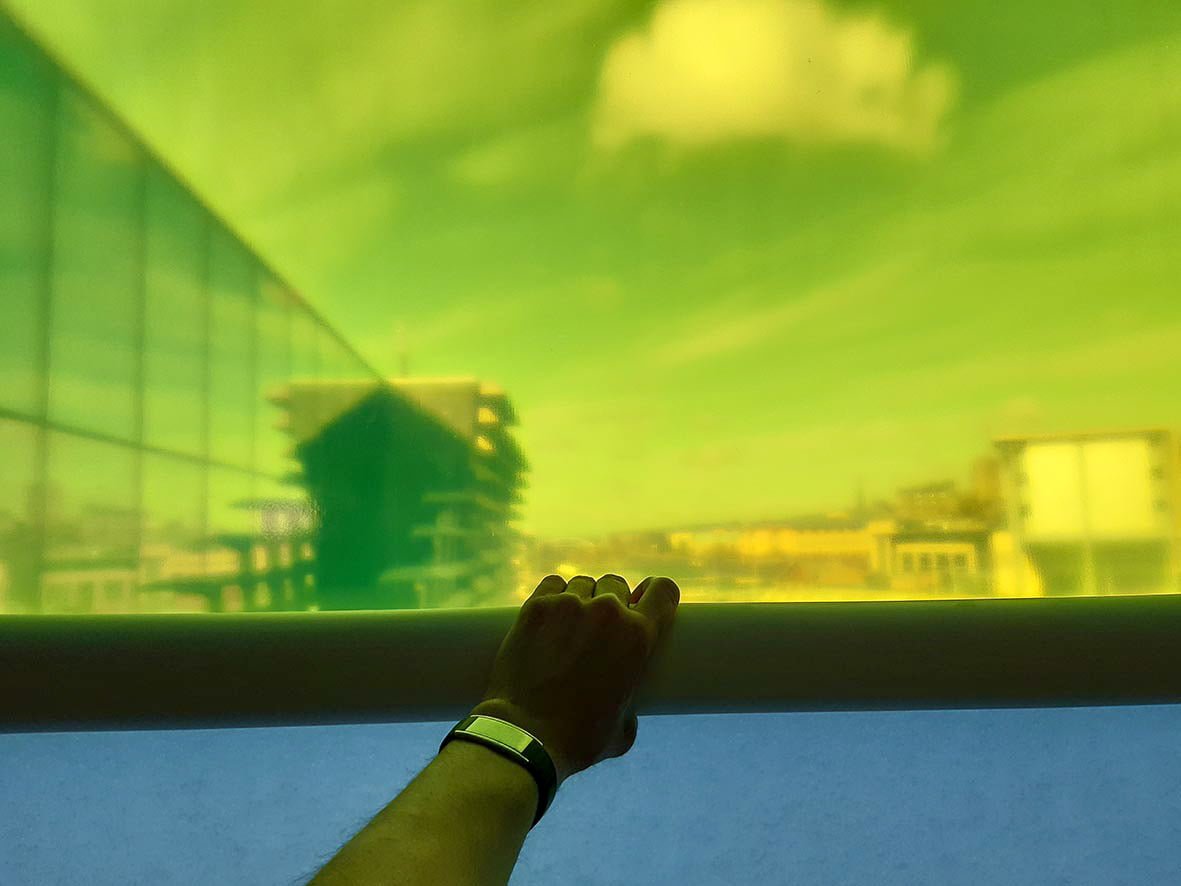 With only a few days to go until the exhibition opened to the public, new stock arrived. 50m of static cling film was ordered and delivered to Glasgow. The team at Point Media printed the film during the night, and I met David early the following morning.
With the materials in my van, I drove straight to V&A Dundee to begin applying the window graphics. Months of research and development were at an end, and it was time to add some colour.
Before applying the film, the windows were thoroughly cleaned. Static cling film is applied with plenty of water, with the glass being sprayed continually.
Handling the wide rolls at height, whilst simultaneously wetting the glass was tricky. Starting from the pane on the right, squeegeeing the film in the enclosed spaces was challenging.
Over two days, six window graphics in Dundee's museum of design were now complete. Rays of coloured light flooded through, streaking the floor with hues of pink, yellow and green.
The top edges were all sealed. The bond was tight. Everyone was delighted, just in time for the exhibition opening.
In conclusion, my time invested in research was vital. With lessons learned, my experience increased. It was well worth it for providing thousands of visitors a vibrant welcome to Night Fever.
Sami Ayedi and Jan Heinzelmann (OHA) were the exhibition's 3D designers.
Daniel Streat was the exhibition's 2D designer.
Kirsty Hassard was V&A Dundee curator for Night Fever.
Looking for more inspiration for window graphics in Dundee?
Get in touch to find out more.