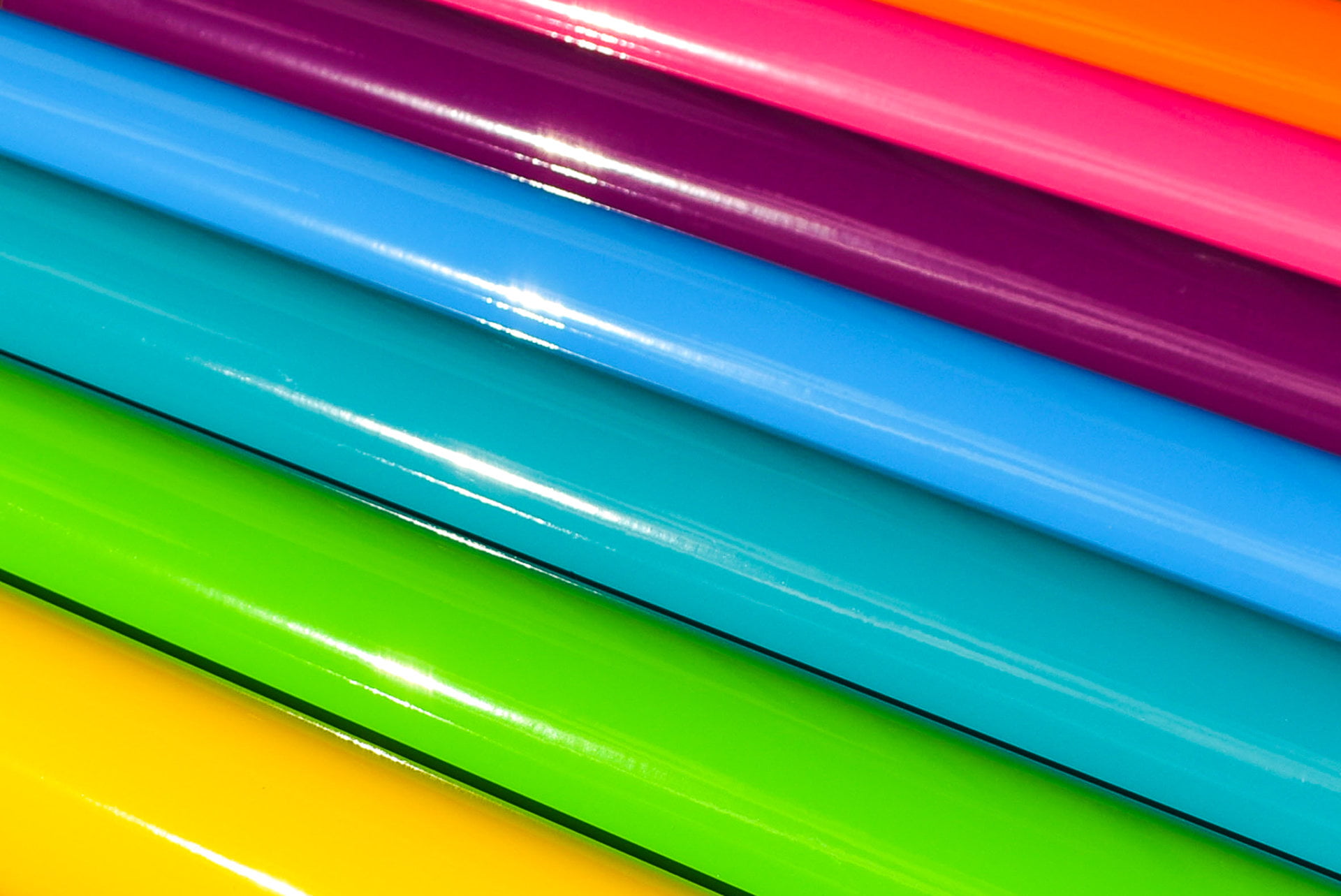 In this third of three articles about colour management in signmaking, I explain the types of colour production for signs and display graphics.
Choosing paint colours for signmaking
Pre-mixed industrial paints contain pigments, binders, and solvents or water. Your local paint merchant will add measures of pigment to a carrier liquid according to your custom colour's recipe. When feasible, bulk order enough paint for your project from one paint merchant.
Consider paint colour opacity when deciding which colour to choose. Some paint colours, such as bright red, are notoriously poor covering. Poor opacity paints equate to more material, labour and cost.
Weak opacity is especially relevant with signwriting paints. Hand lettering multiple coats of paint can affect the finish – particularly light colours on dark backgrounds. Specific signwriting paints are available in a limited selection of colours. It is sensible to reconsider your colour palette if paints can't be mixed accurately to match your artwork's colour.
Other signmaking methods involving paint, such as chemical etching and colour filled engraving share similar colour challenges. Therefore, seek advice from your signmaker before finalising your choice of colour.
Accurately matching existing painted surfaces also poses challenges. Fresh paint will be obviously different if the surface colour has aged or faded. Polishing gloss or semi-gloss surfaces can sometimes restore aged finishes. With more lustre, the original paint colour is easier matched.
Coloured signmaking vinyl
In my experience, vinyl manufacturers share similar ranges of coloured vinyl. Unlike wide colour options for mixing paints, coloured vinyl has limits. Vinyl manufacturers create custom colours, but hundreds of metres must be ordered to make it worthwhile.
Series of vinyl from the same manufacturer, do not necessarily share the same quantity of colours or finishes. For example, it's not uncommon to choose a high performance vinyl series for a short term display, if a particular colour is only available in one series. Short term vinyl series also tend to have less choice of colour. Access to vinyl manufacturers' entire colour libraries can unearth particular colours saving time and money.
Occasionally, there will be differences in the colours of the same vinyl. Although uncommon, separate orders of identical coloured products from one manufacturer can be different shades. These differences are likely due to changes in the vinyl manufacturing process. Shelf life also affects vinyl colours, although colour fading can be due to storage conditions.
Vinyl manufacturers occasionally discontinue unpopular colours, or distributors cease stocking them. These decisions present a problem. Matching existing vinyl signs containing unavailable colours is a dead end.
It's also worth noting, there are many more gloss vinyl colours than matt vinyl colours. Gloss vinyl can be laminated with transparent matt vinyl to alter the finish. Otherwise, digitally printing specific colours on ink-receptive vinyl is often preferred.
Printing colour for signs and graphics
There are several print methods for signs and display graphics. As well as varied costs, each image transfer process has colour and media limitations.
As previously explained in Colour spaces in signmaking, all printing hardware cannot print on all print media.
Screen printing uses spot colour inks and provides a broader range of vibrant colours than four colour process digital printing. But there are limitations with size, detail and applications. Small quantities of screen printed products can also be too expensive to justify.
Generally, large format digital printing produces a scope of signs and display graphics. Digital inkjet printing is the print method used mainly in the sign industry. Within inkjet printing, five types of inks and correspondingly different hardware exist.
Ask your signmaker or printer to explain aspects of colour(s), detail and finish, as well as materials' application properties and expected life term for your project. In addition to your budget, these aspects will determine the type of print process to make your end product.
Digitally printed and laminated vinyl will not retain the brilliance of colour as long as high performance self-coloured vinyl. Inks eventually fade. Selecting appropriate materials (as opposed to the exact colour) should be paramount for projects which demand long term durability.
It's also worth noting that background surfaces can influence printed colour on adhesive vinyl. For example, printed yellow ink on vinyl with a white adhesive side will have low colour opacity. Applying to dark surfaces will muddy the appearance of the yellow ink. In these circumstances, your artwork should be printed onto vinyl with a block-out adhesive side (usually grey) to avoid seeing the background through the vinyl.
Exporting digital artwork files for printed signs and displays
Professional design software contains colour settings and options for specific print output. Ideally, determine how your end product is printed and on what media before designing digital artwork.
Before exporting your artwork files, understand how your software colour settings influence your printed colour. Ask your signmaker or printer which colour profile is necessary for printing your product.
Switching colour spaces during artwork creation can end with unsatisfactory results. Know which colour space your product will be made with and adjust your software settings accordingly.
Expect to see different colours between your screen and printed product when converting sRGB or Adobe RGB to CMYK. Use this online tool for converting sRGB images to CMYK colour values.
Visit here for colour management information in Adobe products.
Ask your signmaker or printer how they accept artwork files. Understand the necessary resolution and file type to create your end product and how to scale and export your artwork in manageable file memory sizes.
Visit here for more artwork setup information.
Powder coating coloured signs
Powder coating is a reliable choice for durable exterior signs. The powder is air sprayed onto alloy surfaces which are electrically charged to bond the protective coating.
Similar to wet spray painting, powder colours can be matched to RAL, BS 4800 and BS 381, as well as NCS. Some powder manufacturers can also match bespoke colours such as Pantone and Farrow and Ball paint ranges.
Matt, semi-gloss and gloss finishes can be achieved, in addition to a range of textures. Metallic finish colours are available too.
Coloured sheet materials for rigid signs
Aluminium composite, foam PVC and acrylic are rigid panels available in varying thicknesses from sheet sizes of approximately 2.4m by 1.2m to 4m by 2m. For projects involving quantities of coloured panels, reduce costs by matching your colour palette to available sheet material colours.
For example, if your colour palette contains not too specific primary colours, base your colour choice on pre-manufactured coloured sheets. Choosing coloured sheets will be less expensive than buying white sheets before colouring them.
Aluminium composite and Foam PVC are manufactured in a small range of standard colours. The ranges include primary red, yellow and blue, as well as generic grass green, dark grey and black.
Brushed and metallic finishes are available for aluminium composite but some sheets have limitations for exterior durability. Sheet surfaces can be directly printed, painted or flooded in vinyl, but not powder coated.
Acrylic is manufactured in a much broader range of colours, finishes and textures. One industry leader also manufactures bespoke solid or translucent coloured sheets too.
For more information about effective signs and display graphics, read how to make your signs work for you.
Interested in discussing how colour can transform your sign? Get in touch to find out more.