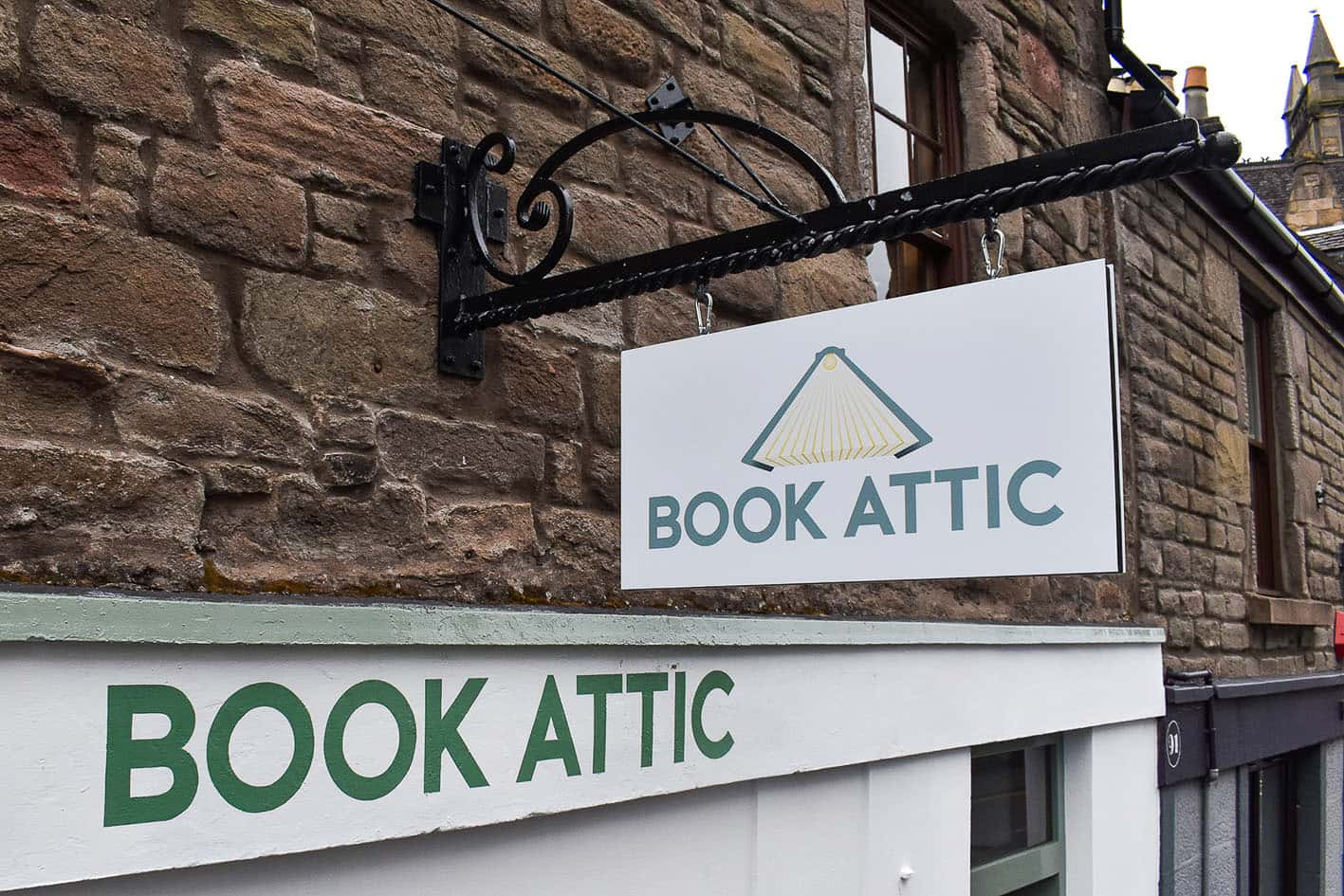 Original, bespoke wrought iron bracket and hanging sign in Dundee's busy Perth Road
Why choose a projecting sign for your business?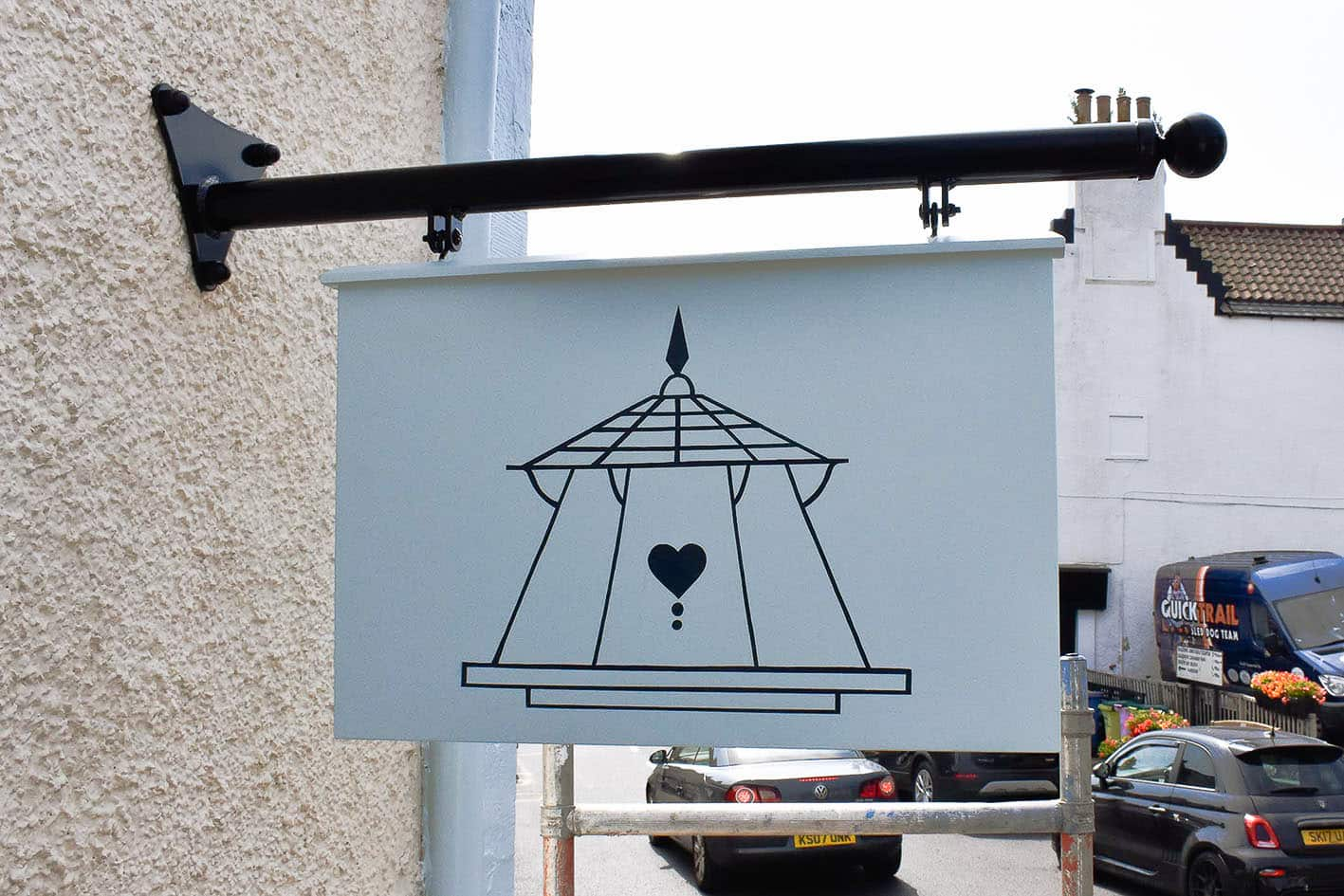 Hanging signs and projecting signs provide a double sided advantage for communicating your message. Both are effective at grabbing more eyes, in contrast to flat signs fixed to surfaces. Especially for motorists in busy districts.
Projecting your message over the pavement helps to locate your business. Not to mention, promoting brand recognition for future potential customers.
How fast can you read?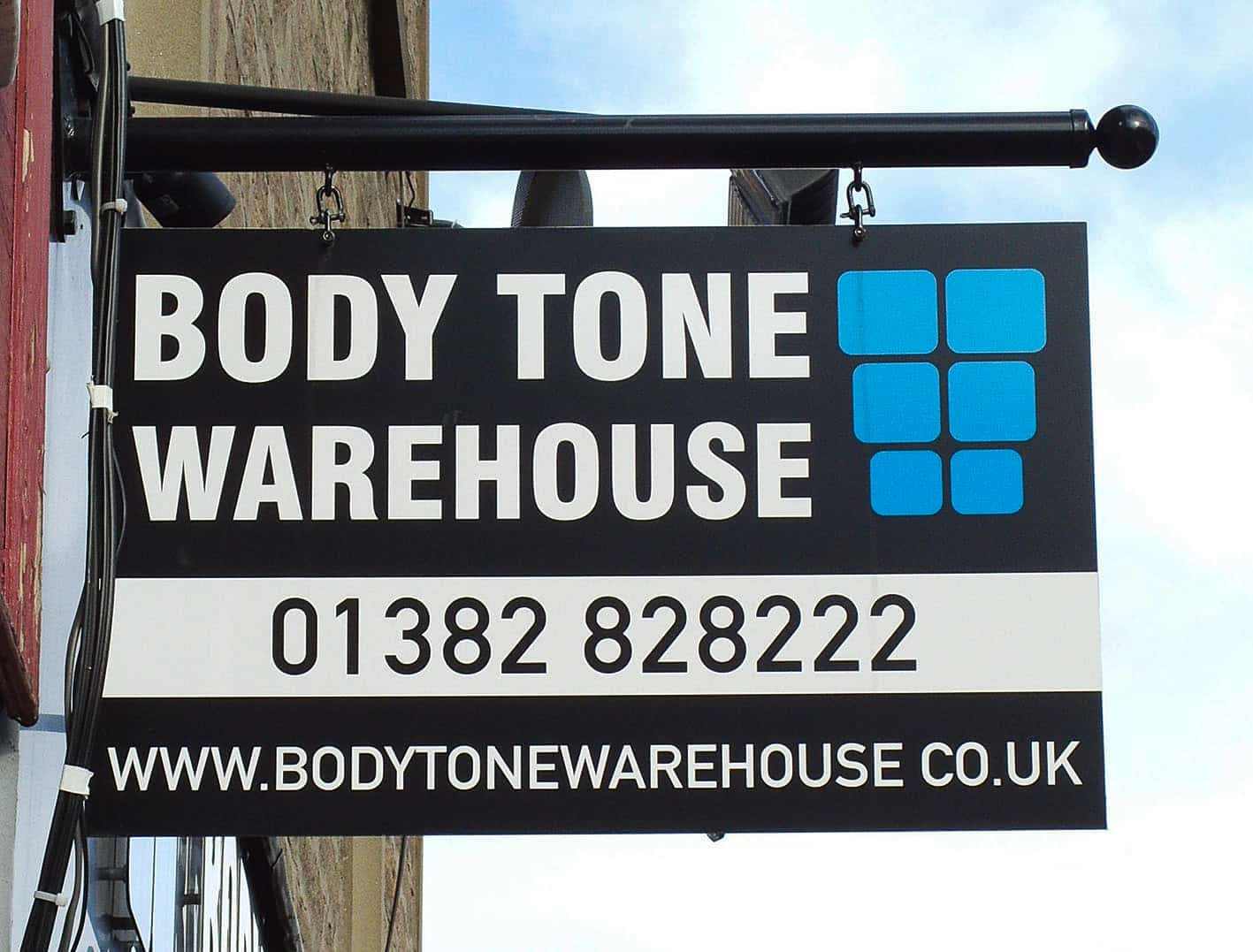 Think of those you wish to view your sign when deciding what you want it to say. What necessary information are they looking for?
The projecting sign's purpose is to instantly inform those who view it. Concise messages work best.
Legibility is key. Consider using shapes other than squares or rectangles. Add images to your sign for visual interest. Use high contrast design and try to avoid making your projecting sign similar to your neighbors'.
Size and weight
The fixing surface will rule the size and weight of the sign. As well as the sign's function when considering illumination. Wind load is also a factor that should not be overlooked.
Hanging signs differ from rigidly fixed projecting signs by allowing the sign panels to swing. Movement on the panel's fixings eases wind load on the hanging bracket. However, the panel has to be heavy enough to avert swinging constantly in moderate breezes. Too much movement poses a risk of damage to the hanging sign and fixings on the bracket.
Solid surfaces are preferred when installing heavy signs. Particularly with heavy brackets. Hollow cavities such as plywood panels fixed to timber frames will present challenges for safe installation. These circumstances require structures built into the cavity to support the overall weight of the sign.
Types of projecting signs
Projecting signs can be as simple as angled panels. Or more advanced with dimensional elements, bespoke brackets, and illumination.
Cost effective options include folded aluminium. The panel is folded at 90° and screw fixed through the folded segment. A sign panel's vertical edge can also be sandwiched between vertical channels for a quick and easy lightweight installation. Both of these options are suited for low wind environments and interior installations.
One folded panel or two protruding sign panels can also be fixed to the surface in a triangular shape. This option is also cost effective and generally used for temporary projecting signs.
Traditional swing signs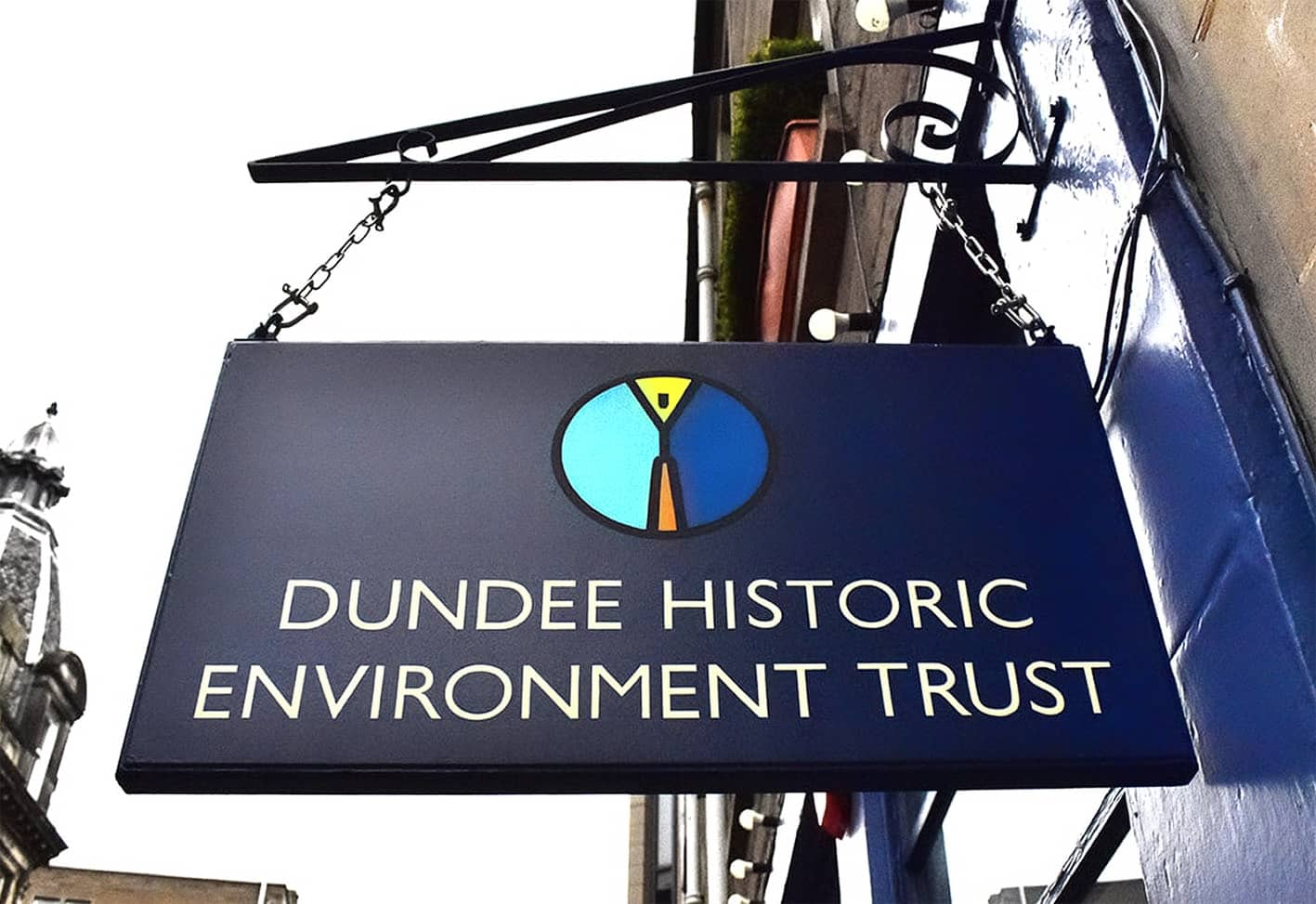 Classic hanging signs are most often paired with wrought iron brackets. Wrought iron and contemporary brackets are widely available in a variety of styles. Both are fabricated with powder coated finish as standard. Bespoke brackets can be made by a metal worker and benefit higher specification signs. The brackets can be painted and gilded too.
Plywood panels are often framed with timber mouldings and fixed to brackets. Sloped hardwood can be fixed to the plywood's top edge to protect the wood from rain. Plywood is also used as the core of a double sided hanging sign, adding weight to aluminium panels that are adhered to each side of the plywood.
Rigid projecting signs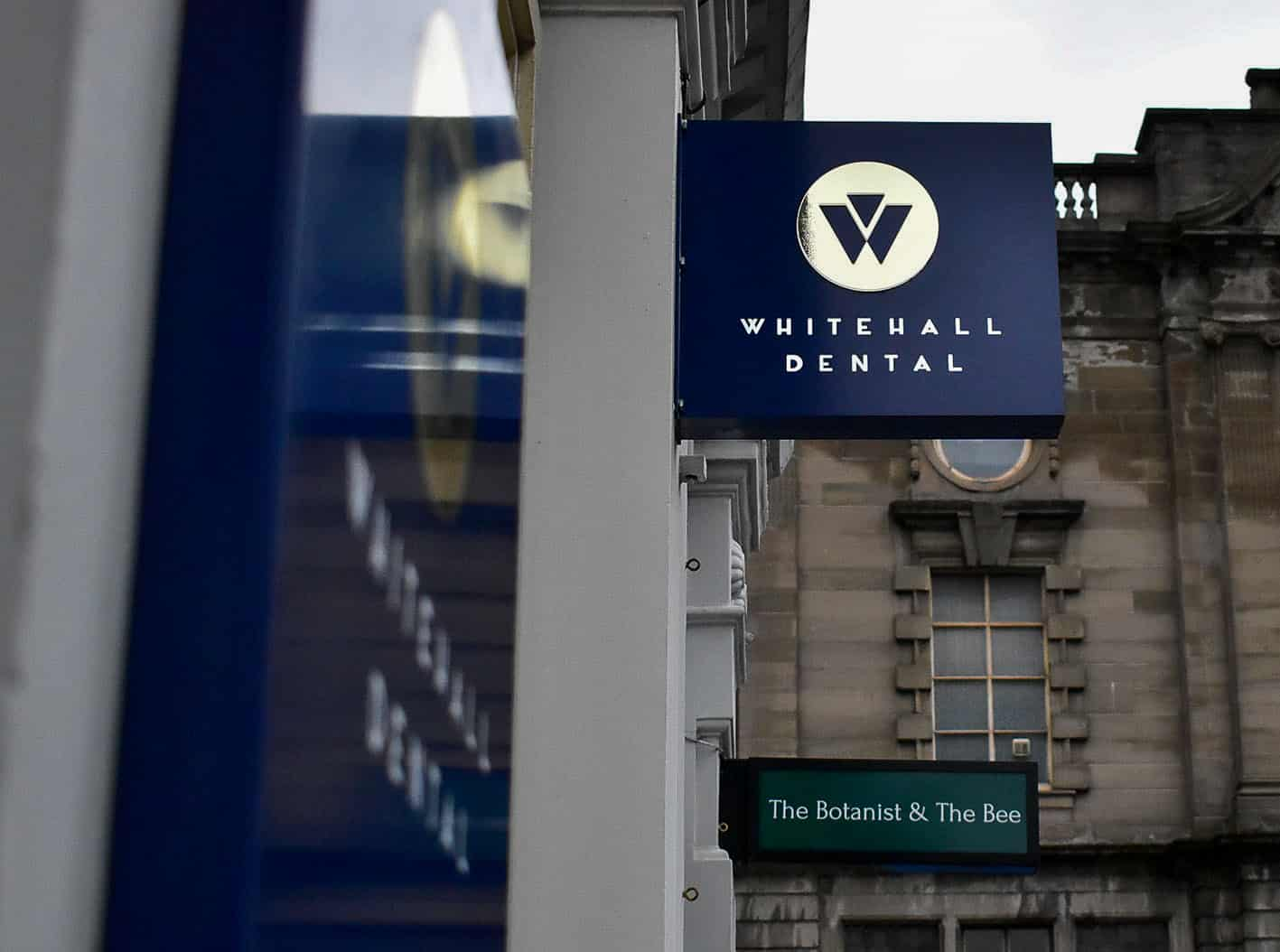 Aluminium or aluminium composite is also used to fabricate boxes. The boxes can be painted, powder coated or wrapped with vinyl and attached to folded steel or box tube framework. These types of projecting signs are rigid and can be made to your specification.
Acrylic panels are also used for the faces of projecting lightboxes. The acrylic panels are framed with aluminium and the faces are illuminated with LEDs inside.
Furthermore, combining fabricated boxes with acrylic panels and/or flat cut lettering, in addition to LEDs makes for a unique projecting sign.
Installation
On masonry, large bolts are used to support the weight of heavier projecting signs. Drilled holes are permanent. Electrical feeds should also be planned when considering illumination.
Signs should be installed following your local authority's guidelines. Some conservation areas limit the size and fixing height of projecting signs. Always check with your landlord or local authority before ordering a projecting sign.
Artwork, dimensions, and specifications are available on request.
Make your signs work for you. Visit here to learn more.
Need advice and a quote for your hanging sign in Dundee? Get in touch to find out more.