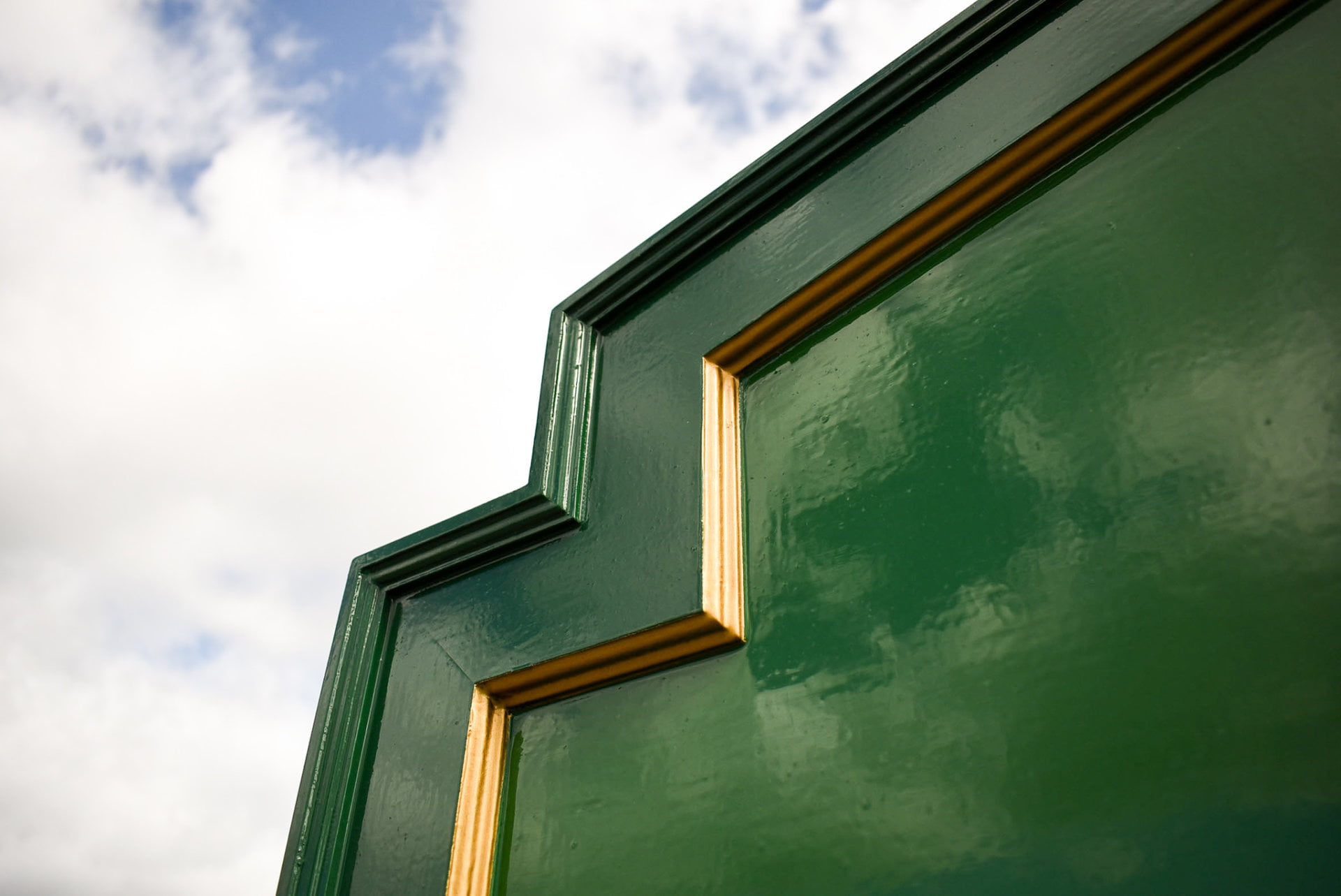 Several factors determine the lifespan of exterior signs in Dundee's climate. This article explains the types of signage materials and why they're used to fabricate signs. It'll help guide your decision to choose the right type of sign for your sign's environment.
How weather affects exterior signs in Dundee
Scotland's sunniest city experiences an annual average rainfall of 720mm and average winter temperatures of 2°. Typical Scottish seasons of sunrays, precipitation, high winds, and freezing temperatures adversely affect the durability of exterior signs.
The region's River Tay exposes nearby signs to haar and salt air. Clouds of water vapour cling to signs and their fixings. As such, signage close to the river is liable to degrade sooner than inland. Accordingly, protective measures are recommended to prolong the good condition of exterior signs in Dundee's riverside and Broughty Ferry.
Further inland, signs installed on high ground (such as the Angus and Perthshire hillsides) are prone to deteriorate sooner than signs located at sea level. Condensation takes longer to evaporate in colder air. Daily mists of water dripping down wooden signs will take their toll.
Prolonged exposure to snow and frost can also increase damage to signs and fixings. Understanding the materials that will last outdoors is crucial for the longevity of your exterior sign.
How long will your sign last outside?
Structural design, fabrication method, installation method, quality of materials, and location all contribute to the sign's longevity.
Pollution, extreme weather, accidental damage, and vandalism will also diminish an exterior sign's condition. Inadequate maintenance is a factor too.
Therefore, guaranteeing a precise lifespan of exterior signs in Dundee or anywhere in the world is guesswork. However, reliable materials and regular maintenance will make your sign last longer outdoors.
When is it time to replace your exterior sign?
Providing your exterior sign is structurally safe, only you can decide when it is time to refurbish or replace your signage.
Recognising when to refurbish or replace your sign will also depend on your business' direction. You may eventually consider a rebrand. Or decide to add or remove content. Perhaps your lease is short term and you plan to move.
Your budget will also influence the lifespan of your exterior sign. Before ordering, decide what you expect your sign to do for you. As well as how much you want to spend. Considering these questions will make your sign more effective and save you money in the long term.
Signmaking materials
My focus is to provide you with an effective product that lasts and returns your investment. Therefore, I research, test and use materials from trusted, regular suppliers. I also seek advice from suppliers I deem reliable.
The following lists the materials and processes I use for making and installing exterior signs. I also note the lifespan I expect from the sign before refurbishment or replacement.
Painted plywood and hardwood
Ideally, close grained plywood is used for sign panels. Preferably, plywood edged with hardwood. Hardwood is more reliable than redwood (or softwood) for exterior sign frames and fabrication.
Corners of frames are mitred. Joints and screw holes are filled with hardening putty or automotive body filler. Acute angles are radiused to avoid thin paint coverage too. These measures remove potential water ingress after painting the wood.
My process for brush and roller painting exterior wooden signs includes at least ten coats of paint.
For opaque coloured signs, I use oil based wood primer (two coats per side), oil based undercoat (one coat per side) and at least two topcoats per side.
With Dundee's typical seasonal weather, I expect my painted exterior signs to last at least five years* before considering major refurbishment or replacement. Dependent on the sign's location, I also expect the wood to be in sound condition underneath the layers of paint.
Exterior wooden signs under branches, guttering and other potential waterfalls will likely deteriorate sooner than five years. Exposure to extreme temperatures, especially on high ground will adversely affect the expansion and contraction of timber. In turn, this can warp and shrink the structure of the wooden sign.
Some exterior signs require additional protective barriers, such as lead coverings over the top edge. In addition, sealants are applied if signs are drilled during installation.
*Owning an exterior wooden sign involves maintenance. Regular maintenance will prolong the life of exterior wood.
Exterior sign paints
Choosing solvent, oil or water based paint for the topcoat usually depends on the colour and finish. Some projects specify a matt or semi-gloss finish. Often, flatter finishes mean choosing a water based paint. My gloss finishes are almost always oil based paints.
I determine if the colour is strong enough once the second topcoat is dry. If I'm not satisfied with the finish, I coat more layers of paint.
Occasionally, clear varnish is applied last to seal the surface further. Although, varnish often alters the colours of topcoats. Clear coating the sign with varnish helps rejuvenate it in the future. When the sign requires a refresh, the face can be thoroughly cleaned, lightly sanded, and then varnished again.
In my experience, oil based gloss paints retain colour brilliance longer than water based paints.
Signwriting paints
Specific paints are used for hand lettering with a brush. Signwriting paints differ from exterior decorating and automotive paints. Generally, signwriting paints flow smoothly and have a higher opacity than other paints.
I use mainly enamels for gloss, semi-gloss and matt finish. Occasionally, I use water based signwriting paints for matt finish too. Some water based signwriting paints are weatherproof, but solid coverage can prove challenging. I prefer the opacity of oil based signwriting paints for use on exterior signs.
I expect the signwriting paints I use to withstand exterior conditions for up to five years. However, some colours lose their brilliance sooner than others.
Discolouring of surfaces
Prolonged sun exposure can cause some paint and ink pigments to discolour. The sun bleaches chemical compositions in colour pigments. Red hues are notorious for fading in sunny environments and can turn chalky.
Specific paints for signmaking will prolong the painted exterior sign colour. Regular cleaning maintains colour brilliance and car polish can rejuvenate coloured surfaces too.
Stained plywood and hardwood
In contrast to painted opaque colours, layers of wood stain should be thin enough to accentuate the wood grain underneath. Varnish is painted on top after achieving the desired wood shade. Clear coating wood stain is important for protecting the exterior sign but not always necessary. Generally, I use oil based yacht varnish to seal the wood grain surface.
I expect up to five years' lifespan before refurbishment or replacement of an exterior wood stained sign. Again, regular maintenance will contribute to the sound condition of the sign.
Installation of wooden signs
Wooden signs are fabricated with installation in mind. Drilling through the face of the wooden sign is avoided when practically possible.
If the project budget and installation surface allow, components are built into the sign's structure. Framework, batons and hardwood edging strengthens the sign and disguises fixings too.
Areas of wood that are drilled and screwed are filled and then painted or covered with screw caps. These measures protect the wooden core from water ingress.
Gold and metal leaf
Gold leaf is available in different forms and varies in content. 24 carat gold leaf is 100% pure gold and is resistant to corrosion. Gold leaf's purity determines how it lasts outdoors. Weighed per one thousand leaves, the heavier gold leaf will resist environmental challenges longer.
Other metals such as bronze and copper are mixed with gold to produce a lesser purity of gold leaf. At least 23 carat gold leaf should be used for exterior projects and can last for decades on outdoor surfaces.
23-24 carat gold leaf does not require varnishing unless it is likely to be handled or touched.
Exterior metal signs
Several other substrates are available for making rigid exterior signs. Metal based sheet materials possess an indefinite life term and are available in sheet sizes from 2440mm by 1220mm to 4m by 2m.
Aluminium and aluminium composite resists rust and can be painted, as well as wrapped with vinyl. Both can also be folded to make sign trays. Aluminium composite is the most common substrate used for rigid exterior signs and folded edges strengthen the panel, as well as add dimension. Trays can also prevent the substrate expansion caused by high temperatures.
Stainless or galvanised steel sheets are also used for signs. However, weight and cost often exclude these options for general signmaking.
Exterior plastic-based signs
Various forms of plastic sheet material are used for rigid and semi rigid signs. There are pros and cons for each of the following substrates, with varied exterior life terms.
Acrylic sheets are available in high gloss colours and are often used for light boxes and illuminated signage. Generally, I don't choose large acrylic sheets for sign panels due to drilling limitations, potential thermal expansion (and contraction), as well as costs. Although easily cleaned, acrylic surfaces can also tarnish and become hazy when wiped.
Foam PVC is a lightweight and versatile sheet material. Available in thicknesses from 1-19mm, it can be sawn, shaped, painted and used in fabrication. In my experience, foam PVC sheets are prone to warping in high temperatures. Foam PVC also dents easily. For these reasons, I avoid using foam PVC for fascia signs and long term exterior signs.
Foam board consists of a dense foam core similar to polystyrene. The core is sandwiched with either thin aluminium or rigid polystyrene. The rigid boards are lightweight and generally available in three thicknesses (5mm, 10mm, and 19mm). Manufacturers advise up to two years of exterior lifespan.
Fluted board is often used for estate agents' 'For Sale' signs. It's another lightweight and cost effective material. But not nearly as strong as other sheet materials. In my opinion, fluted board is suited for large batches of temporary signs.
Self adhesive exterior vinyl
Signmaking vinyl is widely available in a massive selection of colours, finishes and effects. Manufacturers of vinyl I regularly use, offer a series of exterior vinyl ranging from semi-permanent (a few months) up to ten years.
Due to the wide variety of applications and continual innovation, there's an adhesive vinyl designed for almost every surface. As such, application variables will determine how long you can expect the vinyl to last outdoors.
Printed exterior signage
Digitally printed signs and graphics on adhesive vinyl, rigid panels, and soft signage such as PVC banners and fabrics have different properties. Determining the exact length of time before noticeable ink fading is dependent on the printed sign materials, environment, and application.
UV radiation is the main cause of ink fading. As such, clear lamination of digitally printed exterior signage protects the ink and is recommended for rigid signs and vinyl.
Screen printing is also used in signmaking but it's not as economic as digital printing. Arguably, screen printed inks retain their colour longer than digitally printed inks. Nonetheless, inks will eventually fade, with some pigments sooner than others.
Exterior sign maintenance
Schedule cleaning your sign or ask your local window cleaner.
Inspect your exterior sign regularly, especially after high winds and heavy snowfall.
Check for mould, mildew, insects, and cracks. Wash off dirt in framed corners and angled areas of your sign. Always dry potential water pockets thoroughly.
Fix any loose screws, brackets, framework, or bungee ties.
Apply water repellent, sealant, or paint when necessary.
Use car polish to rejuvenate dulled areas of colour.
Wash off dirt, lightly sand (using 320 grit sandpaper) and re-varnish your sign if applicable.
Conclusion
Constant exposure to severe weather will eventually damage exterior signs. Planning your choice of sign materials will prevent this from happening too soon.
Consider your sign's purpose, location, materials, and installation, in addition to the maintenance of your sign. Your answers will remove ambiguity as much as possible and provide peace of mind, thus saving you time and money.
Make your signs work for you. Visit here to learn more.
Thinking about ordering exterior signs in Dundee? Get in touch to find out more.