Around the 1990s, wooden signs in Dundee gradually began to be replaced with plastic and metal sheet material. Advancements in alternative materials more or less replaced the use of wood for most exterior signs. Nevertheless, wooden signs still have advantages over other types of signage.
Why choose wooden signs?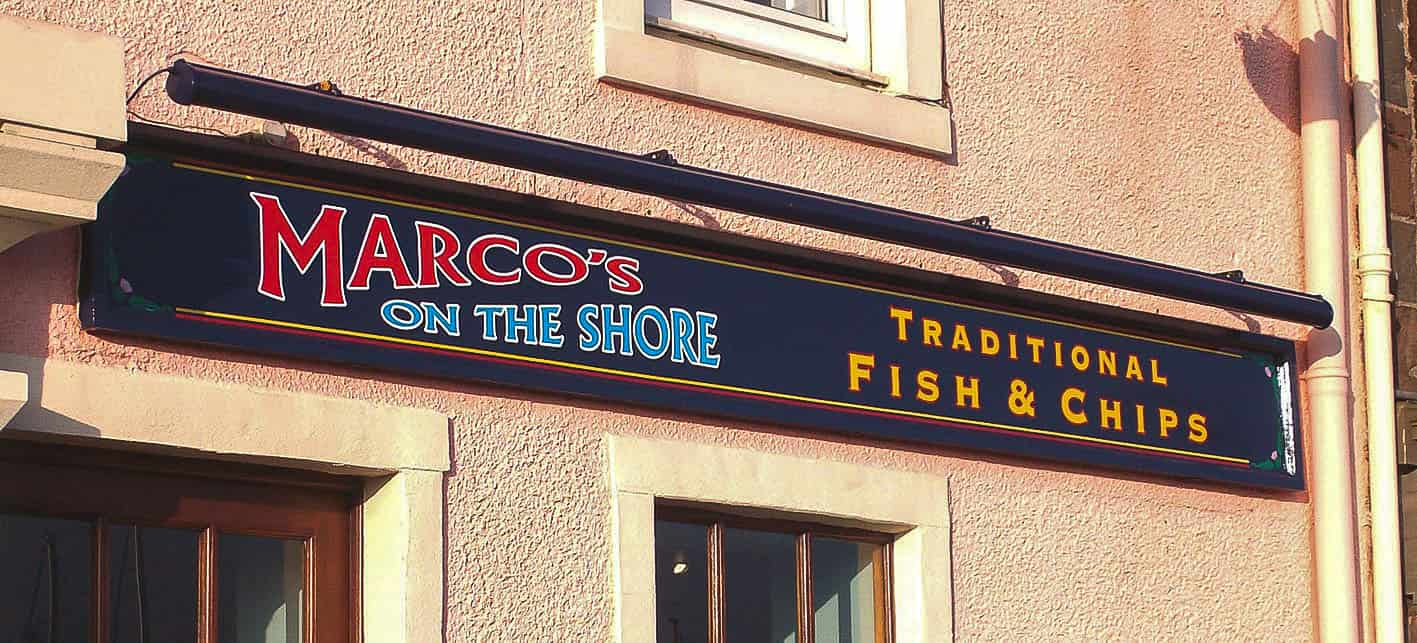 Sheet materials are fundamental for making rigid signs. With several to choose from, some sheet materials are made specifically for the sign industry. Bespoke wooden signs are for more demanding specifications.
Plywood's rigidity and resistance to fluctuations in temperature mean it's often preferred for panelling on shopfronts. Where other sheet materials are too flimsy, plywood is preferred.
Due to the structural stability of wood, it's fabricated for robust freestanding signs. In some circumstances, these are made with timber framework. The timber strengthens the structure of the sign and enables securely screwed fixings.
Some local authorities specify wooden signs in conservation areas, in keeping with traditional shopfronts and listed buildings. In addition, settings such as parks and woodlands favour the natural look of wood, as plastics and metals simply look out of place.
Wooden signs can also be shaped, edged, layered, engraved, and painted to almost any colour and finish.
Painted plywood signs
When high grade, marine plywood is used and painted adequately, exterior plywood signs will last for years.
Plywood thicknesses typically range up to 25mm. Bare edges are sanded then any gaps are filled with auto body filler, before the base coat of primer is applied.
I apply at least ten coats of oil based paint for exterior plywood signs. Two coats of primer (per side), one coat of undercoat (per side), and two coats of gloss (per side). Often, more than two coats are applied to the face of the sign to achieve a solid finish.
Opaque paints suitable for sign painting can be mixed to match RAL and British Standard colour references. Or closely matched to decorating manufacturers' references. Pantone references can be closely matched too.
Painted wooden signs can be finished in gloss, satin, or matt. Gloss finishes can be varnished and re-varnished years later. A light sanding and a re-varnish rejuvenate clear coated signs.
Oak veneered plywood signs
Plywood is available with veneers such as an oak wood grain. Slices of the oak's trunk are sandwiched and glued onto the core of the plywood. This veneer is preferred for displays and honours boards because of the beauty of the grain.
When varnished or stained, the woodgrains natural appearance adds interest to the face of the sign. See how it's done and visit here.
Hardwood edged plywood signs
For extra durability, plywood panels are edged with hardwood. The hardwood minimises the risk of moisture penetrating the plywood's edges.
Strips of hardwood are attached with glue as well as pins and cut with mitred corners. The hardwood edging is then sanded flush with the panel faces.
Some plywood signs have an overhanging hardwood edge on the top. These overhanging edges are sloped which helps water to run off. Rain ledges are often used on freestanding and double sided projecting signs.
Hardwood mouldings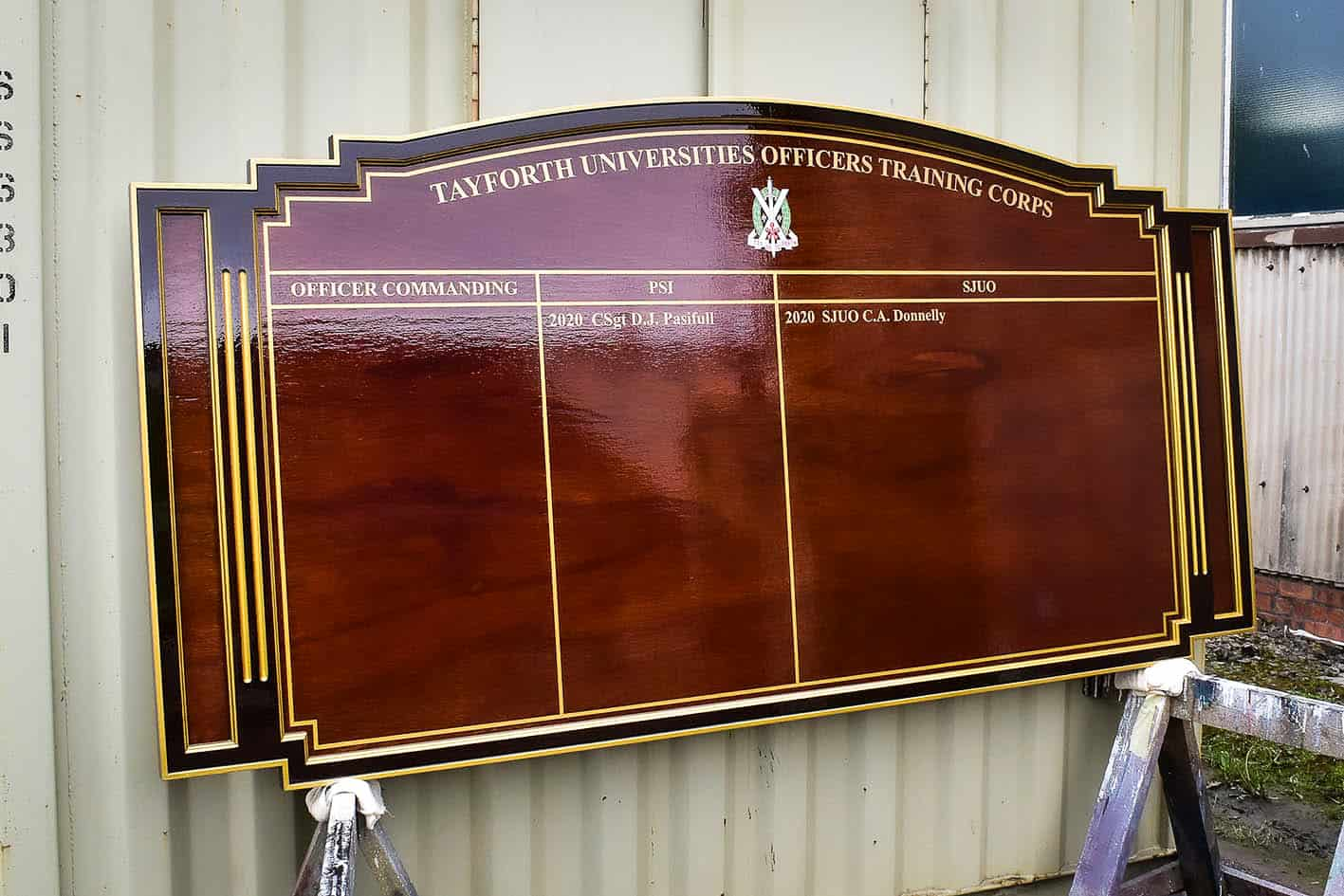 Mouldings are borders that frame signs. Similar to a photo frame, mouldings can be angled, routered to shape, and built up in layers. Mouldings add depth, strength, and impact to the face of the sign.
Painting or wood staining mouldings with a contrasting colour helps the face of the sign to stand out. Routered edges on mouldings are also picked out in contrasting colours. Detailing such as metallic paints and gold leaf adds more visual appeal and shows off the shape of the mouldings.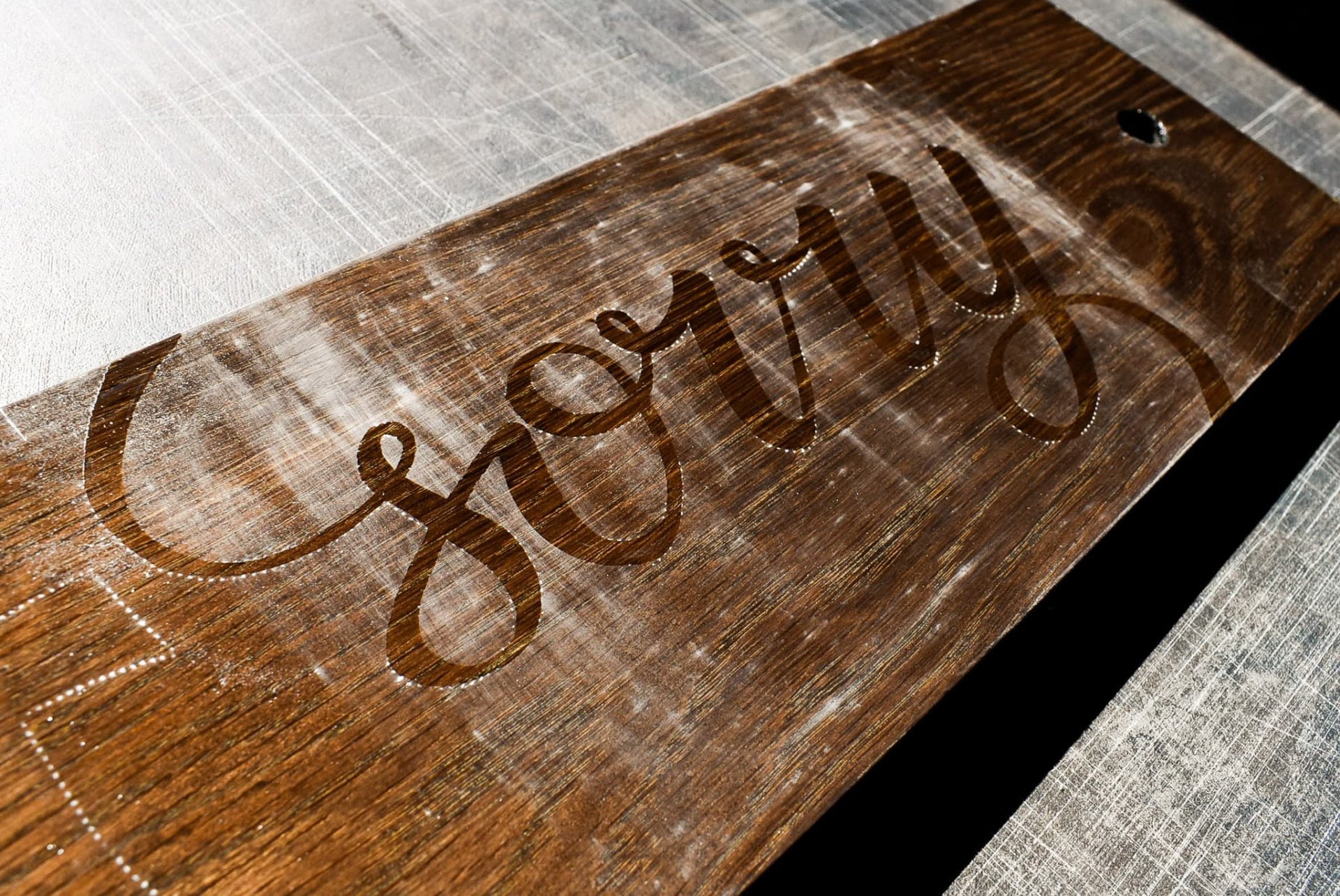 Natural wood stained signs
Wood stains are available in various shades such as pine, teak, mahogany, and ebony. Coloured wood stains can be used too, creating interesting and out of the ordinary signs.
Signs can be made from single, solid pieces of hardwood or softwood. Or by attaching planks together. Woodgrain finishes complement natural environments, especially when stained and varnished. The wood stains enhance the pattern of the wood grain.
Stained plywood is used for the faces of honours boards. As well as for interior plaques and house signs. Natural woodgrain provides opportunities for both traditional and contemporary sign design. Especially when paired with hand lettering and gold leaf.
Installing large wooden signs
Some wooden signs are fabricated with lengths of square timber. The lengths are split into 'L' shapes and one is fixed to the back of the sign. Once painted, the alternated baton is attached to the sign's fixing surface.
The sign is then slid onto the surface baton and screwed together. The split batons dismiss visible fixings on the face. As well as providing strength and depth to the sign.
Repurposed wood signs
Recycled wood can be sanded and painted, providing the wood's structure is sound.
Worn and distressed finishes are enhanced with painting techniques. As well as adding vintage design elements for faux antique signs.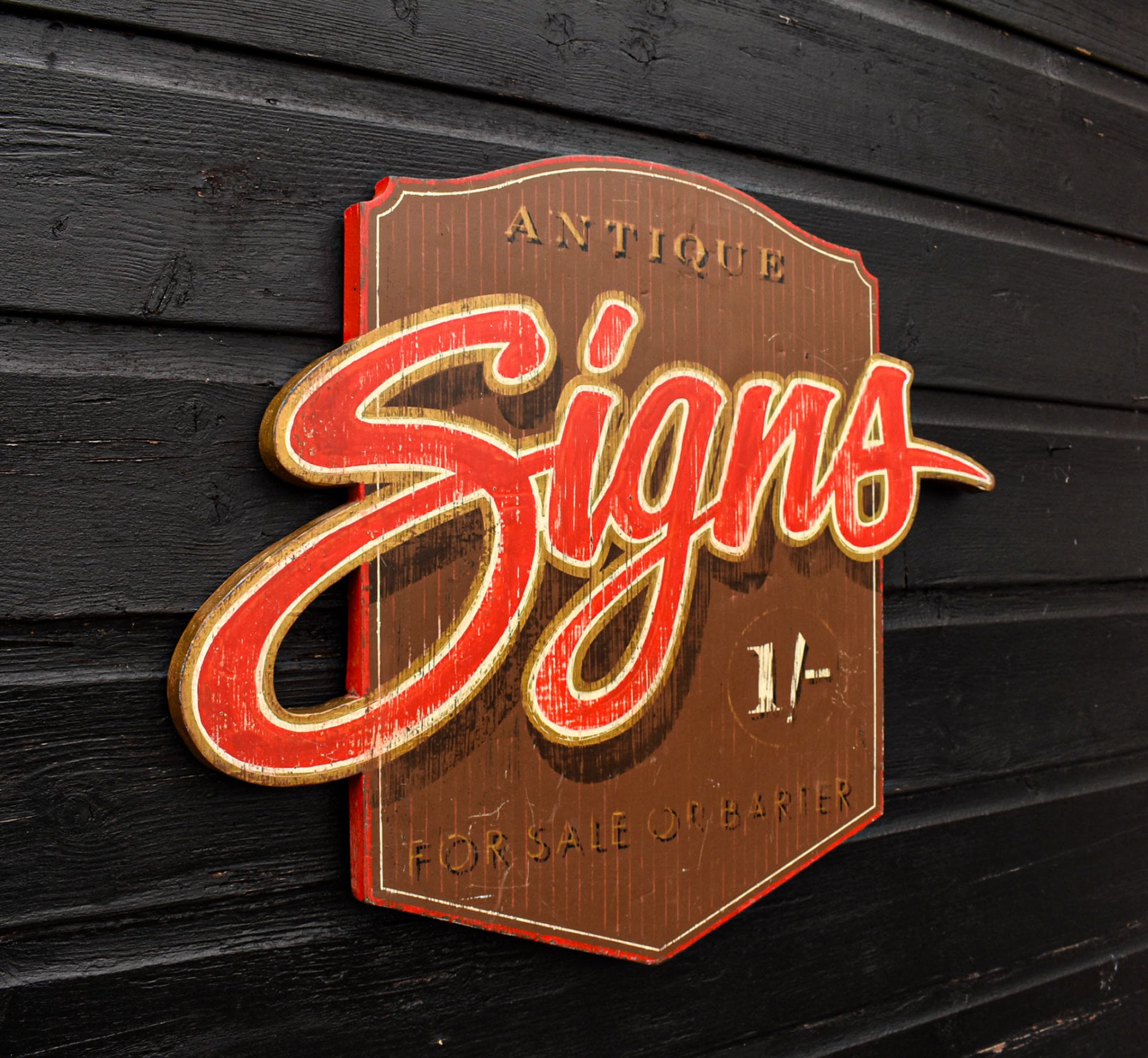 Engraved wooden signs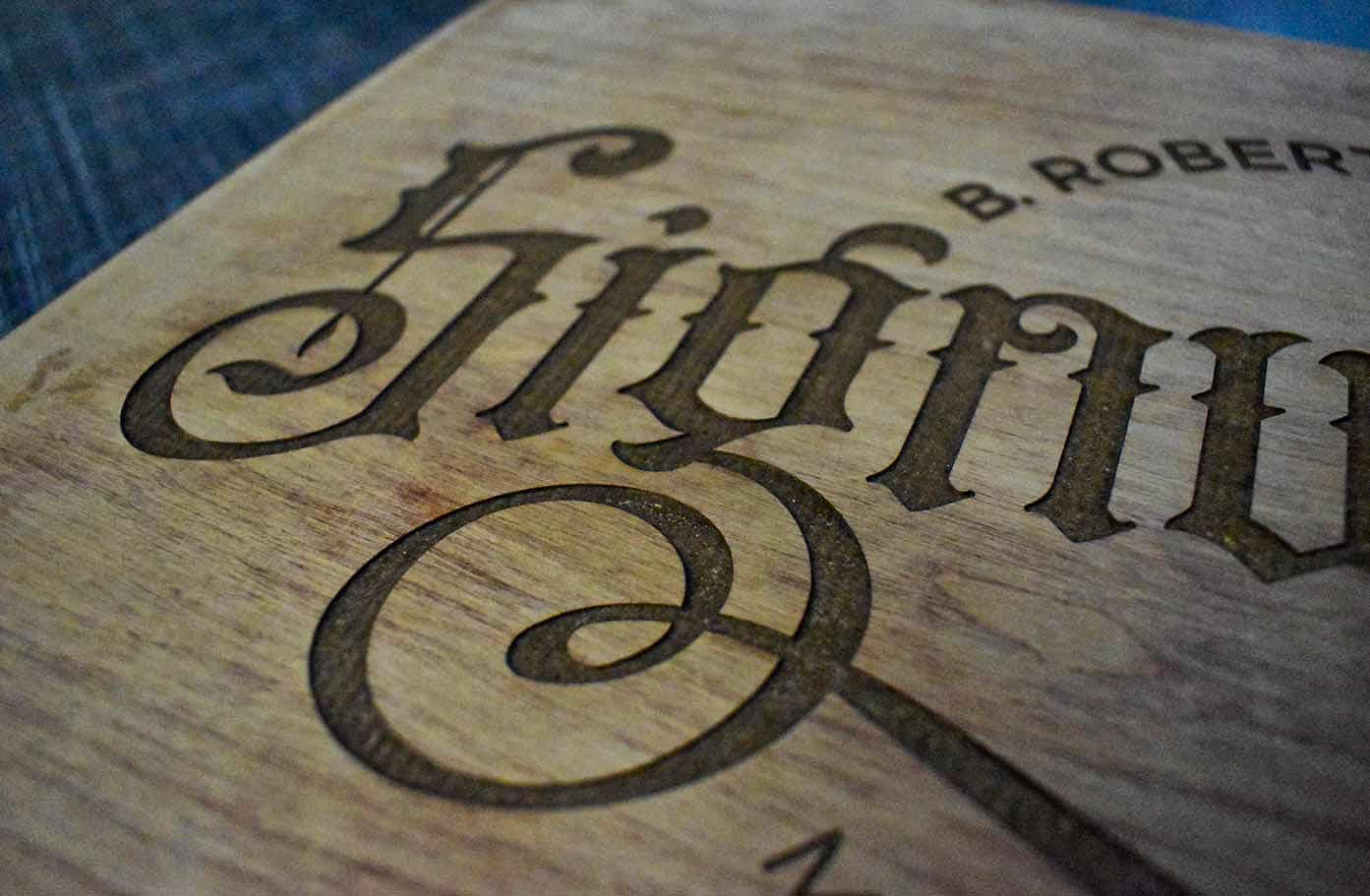 Routered and laser engraved wooden panels create de-bossed effects on the face of the sign. Engraved areas can be painted in opaque colours or filled with metal leaf.
MDF signs
Made from compressed wood fibres, MDF is easily shaped and has a smooth finish. MDF is ideal for routered edged panels. This creates an edge similar to a frame and helps the face of the sign stand out.
Typically used for interior signs and displays, exterior grade MDF is also available. Sheet sizes range up to 3050mm by 1220mm, in thicknesses up to 25mm. This material is versatile and extra durable when sprayed with auto body finishes.
To conclude, when properly prepared and painted, wooden signs will hold their strength and return your investment for years to come.
Make your signs work for you. Visit here to learn more.
Need advice and a quote for wooden signs in Dundee? Get in touch to find out more.