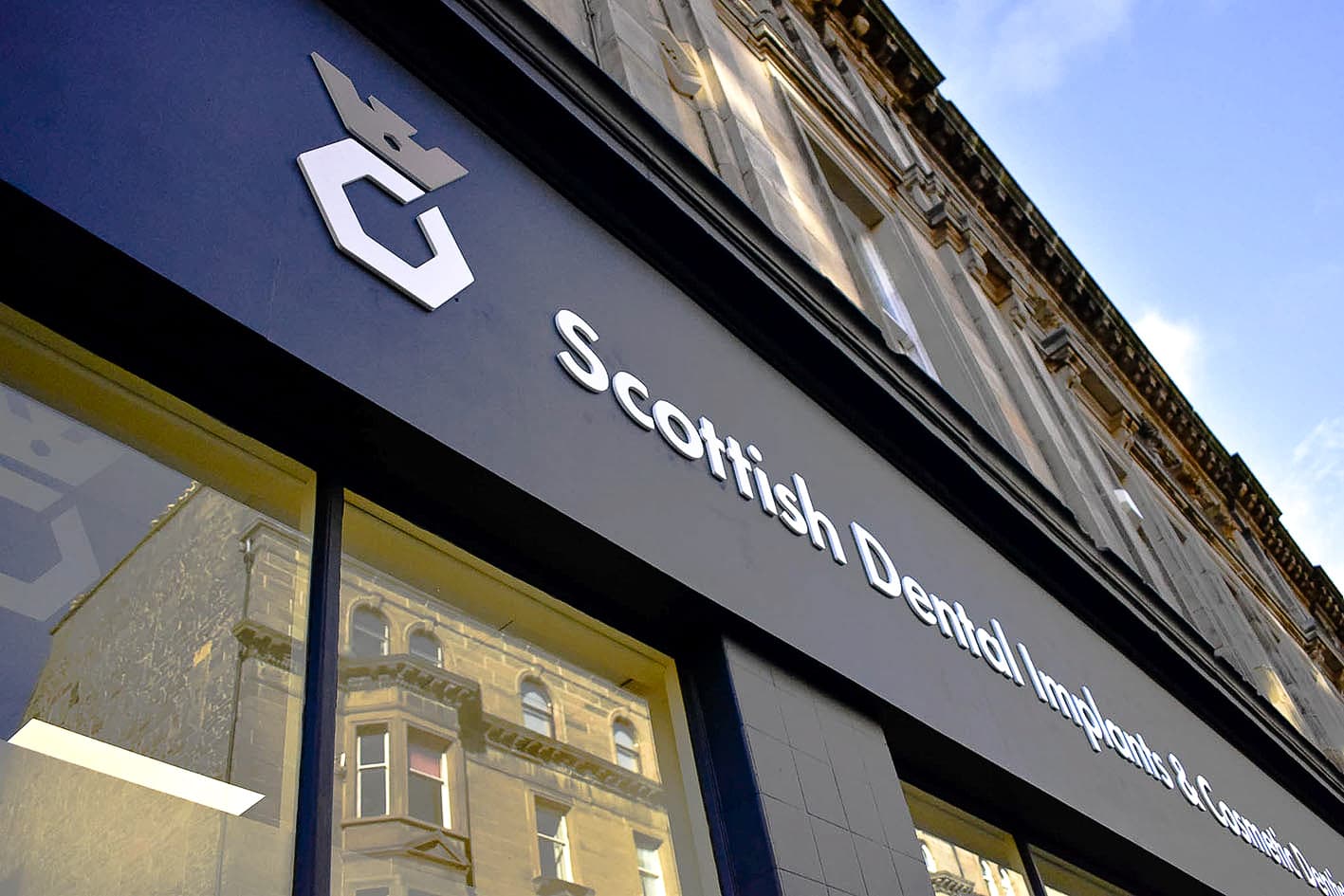 Think of all the fascia signs in Dundee. Which ones immediately spring to your mind and why do they appeal to you?
What does your fascia sign say about your business?
Visual identity and brand guidelines will help market your business. In turn, artwork for your shopfront will present your business to your market.
Understanding the look which will appeal to your market is key to encouraging potential customers to visit.
Apart from the words on the shopfront, what message do you want to convey and to whom? Your potential customers will connect with your style. They're more likely to visit when the shopfront appeals directly to them.
Your fascia sign should reflect the identity inherent to your business.
Choosing artwork for your sign
Once you've decided on the style and wording for your shopfront, you can consider the sign's design. Your fascia sign can be bold and include the business name and details of what you do. Or minimal, with a subtly sized logo. Perhaps an image of the products or services you provide will also strengthen the message you want to convey.
The fascia sign can be independent of the shopfront and provide a contrast of colour and shape. It can be flat, curved, or layered. The design can also connect with other elements on the shopfront, such as window graphics and pillar lines.
Or make it blank and use your windows for graphics instead.
Types of fascia signs

Masonry or stone facias are structural to the shopfront. These can be directly lettered, either by signwriting, vinyl lettering, or raised letters.
An existing plywood fascia can also be re-painted and lettered by hand, with vinyl or raised letters fixed to the surface.
Flat panels can be installed directly to the fascia with the aforementioned options of lettering. And also installed with stand-off fixings.
Sign trays are a method of protruding the fascia panel off of the shopfront. These can be used to provide extra impact, as well as hide the fixings.
Some traditional shop facias have reverse painted glass panes. These are often hand lettered and include gold leaf.
Your type of fascia sign will be determined by your design, your budget, any necessary planning consent, and the condition of the surface.
Installation of fascia signs
Facias that are out with the size of single sheets of substrates are butted together. Sheet sizes range from 2440mm by 1220mm up to 4m by 2m. However, the larger sheet sizes are subject to availability and logistics.
Vertically butted panel edges are visible but not obvious. When sign trays are used for long fascia signs, an adjoining plate is fixed inside the neighbouring tray to attach the two segments.
Painted or stained plywood can also be used for longer than sheet size fascia signs. When circumstances allow, plywood panels can be fixed to the fascia and vertical edges filled before painting. This helps to disguise the butted edges.
I've always tried to disguise fixings wherever possible. Sign trays and painted plywood panels enable fixings to be hidden. Occasionally, mouldings or frames are fixed on top of the perimeter edge of the fascia sign. These hide the screws fixed directly through the panel faces.
Channel frames are fixed to facias with mitered corners. Panels are then slid into the channels which allow the panels to float inside of them. This fixing method is used most often for sheet acrylic and foam PVC.
Panels can also be fixed through the face and screw holes filled. Vinyl can be applied on top of the entire fascia sign which also disguises the fixings. This method is dependent on weather conditions. Off-site manufacture is always preferred.
Planning consent for signs
Some local authorities have stipulations for shopfront signage. Especially for illuminated signage. Always check with your landlord or local authority before ordering a fascia sign which is significantly different from any previous signage.
I can provide visual mock-ups, dimensions, and specifications of materials and installation. Samples are available on request.
Illuminated fascia sign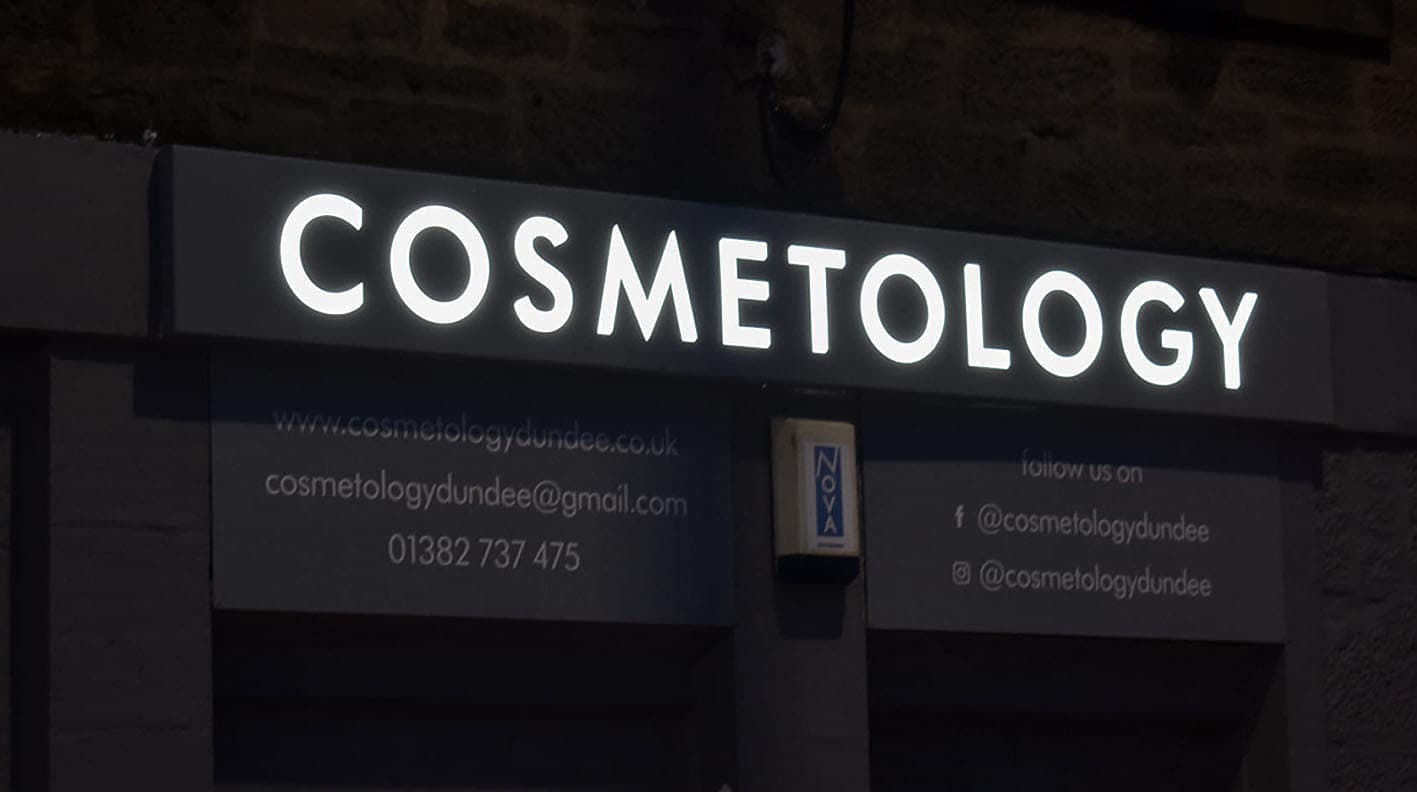 There are three main methods of illuminating your fascia sign.
Signage lighting can be fixed above the fascia sign or as part of the shopfront design. This works particularly well for long facias.
Illuminated sign faces or lightboxes are made with acrylic panels. Translucent vinyl is applied to all or part of the acrylic panel to allow the light to emit through the face. Opaque vinyl can be paired with translucent for selective areas of light.
Illuminated letters can be individually raised off of the fascia or sign tray. As well as sunk into the face of the sign or protruding through it. These types of illumination are commonly powered with LEDs which is most cost efficient for sign lighting.
Maintaining your sign
Plan a cleaning schedule for your signage. Especially in high traffic volume areas. Washing your fascia sign and shopfront will prolong the good condition of your investment.
Fascia signs can also be rejuvenated with polishes and wax. This aids removal of dirt and debris, as well as repelling future contaminants.
Make your signs work for you. Visit here to learn more.
Need advice and a quote for your fascia sign in Dundee? Get in touch to find out more.