Chamber Practise shopfront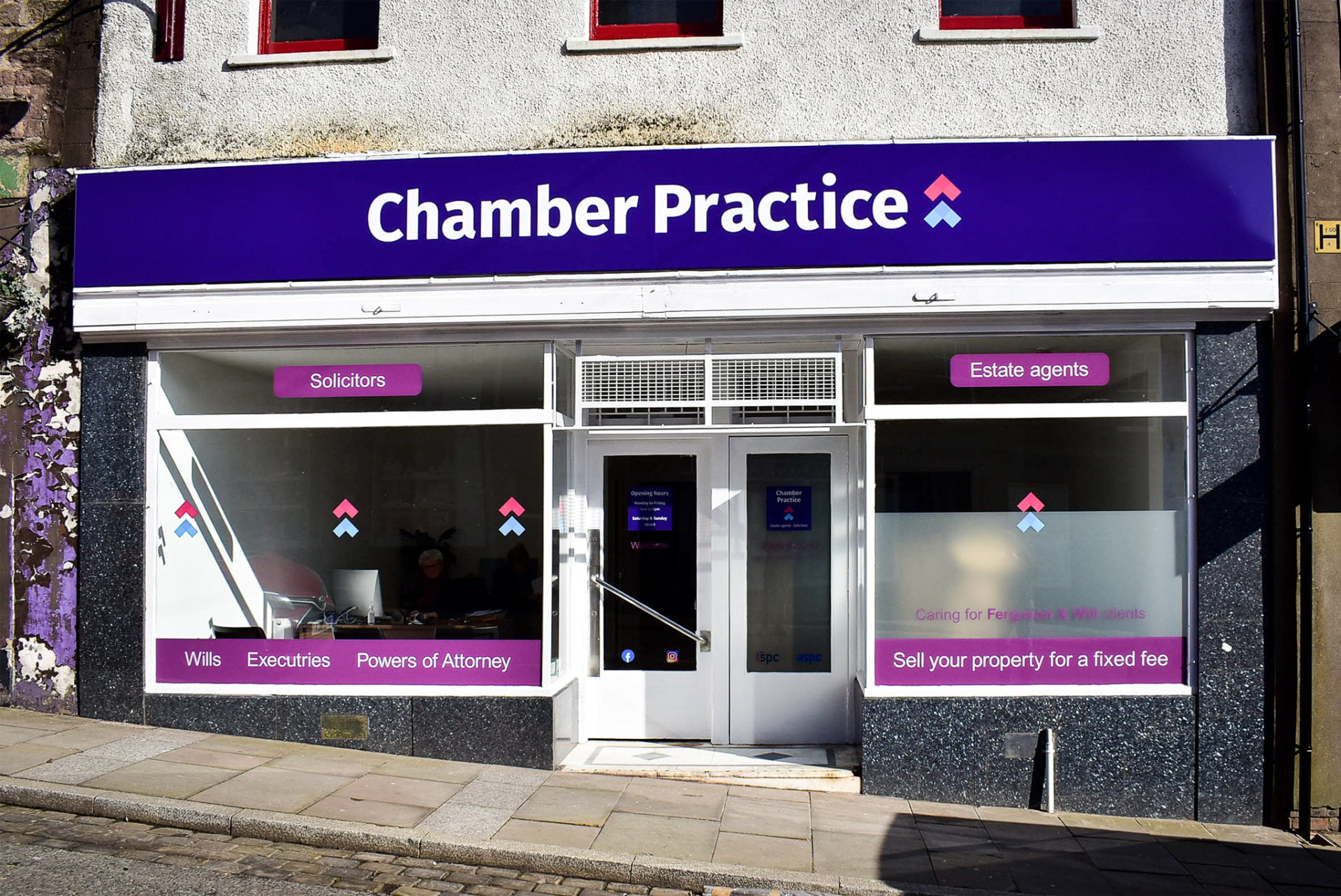 Shopfront signs for Dundee business' expansion in Brechin, Angus.
Expanding Dundee business
In November 2021, Philippe at Chamber Practise in Dundee contacted several signmakers. He needed advice with plans for a new shop. I replied to his email with a list of questions.
'I liked that you got back to me with lots of questions. Everyone else just wanted to give me the cheapest price', said Philippe.
From Philippe's enquiry, I had an approximate cost in mind. But we were nowhere near the pricing stage after his initial email. First, we had to find solutions for his challenging project.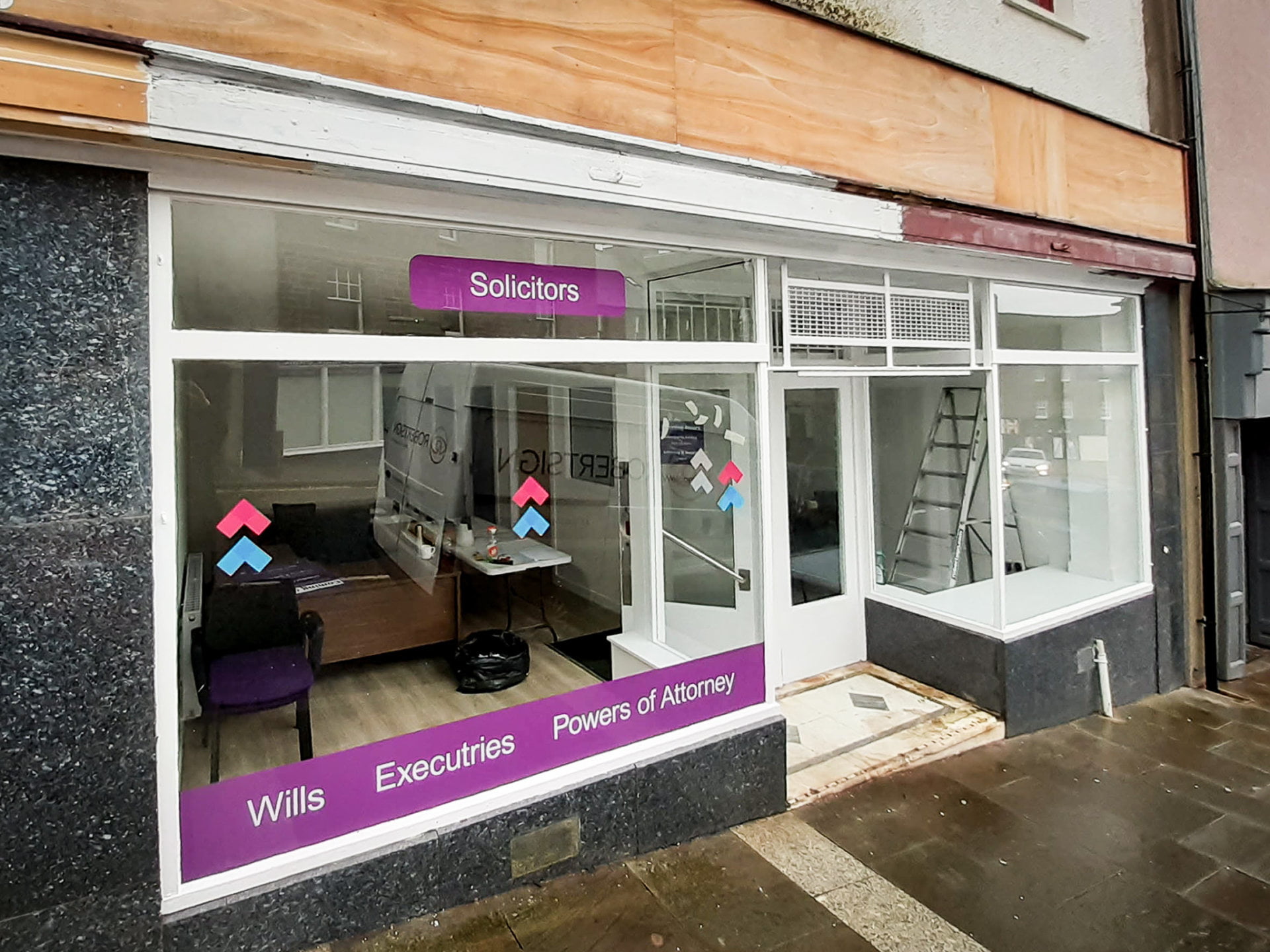 Creating accurate artwork
Philippe made the Dundee business's signs artwork for their new shopfront in Brechin. Brechin is in the northeast of Scotland and an area of growth for Chamber Practise.
I asked for brand guidelines. These are crucial to ensure consistency across a business's visual identity. Due to the nature of the shop signs, we began to query the visual brand.
Following a site survey, I determined options for manufacture and installation. After feedback from Philippe, I provided an indicative quote. My quote was approved, and then we broadened the project brief.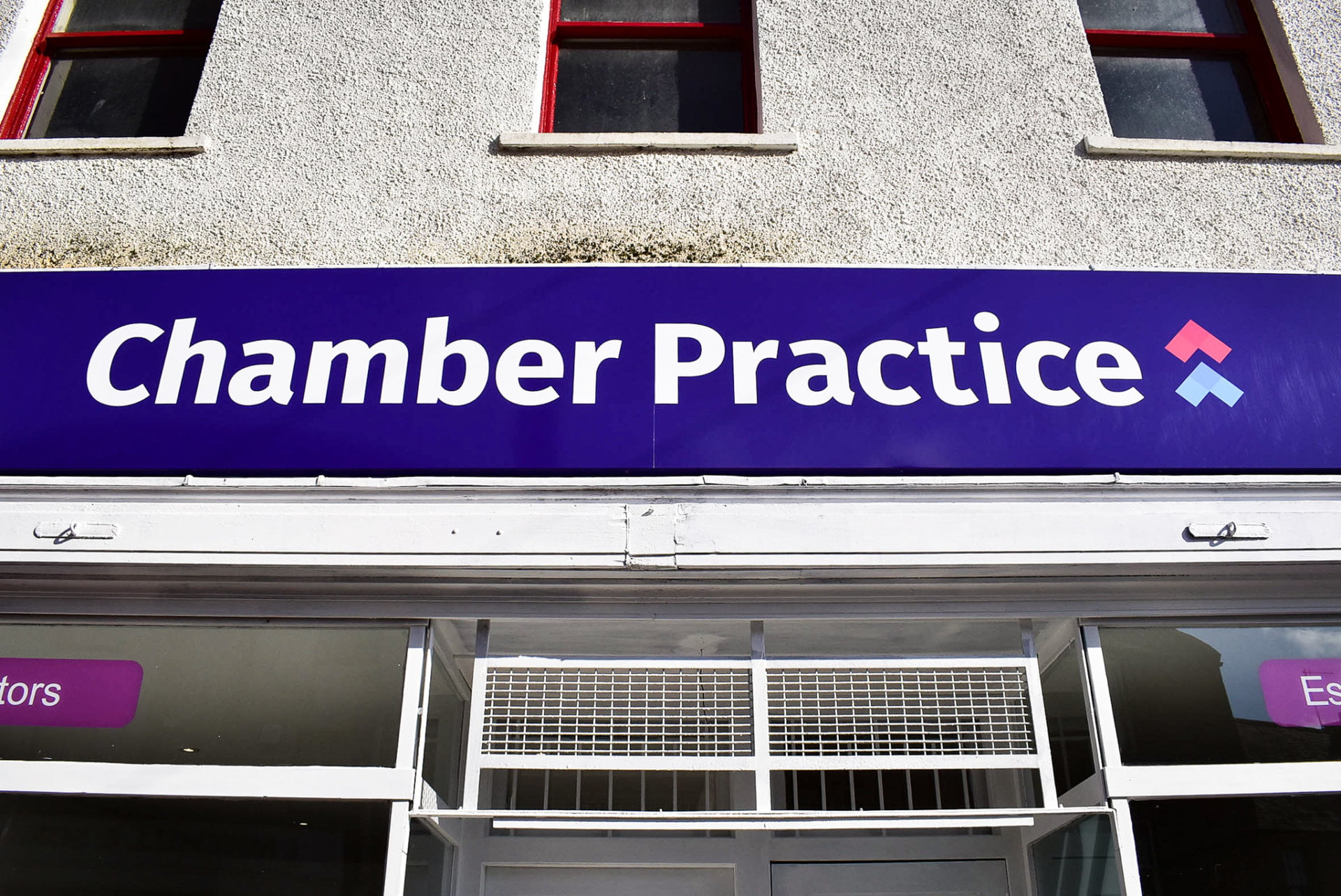 Matching brand colours
Reproducing colours across a variety of platforms can be a minefield, especially on exterior signage.
I advised Philippe about paints, vinyl, inks, and finishes. As well as design, durability, and costs.
The Brechin shopfront signs would inadvertently become the master copy for future Chamber Practise signs. In addition to unrelated items too. Decisions made for this project would influence every other part of the visual identity.
Aluminium tray sign
Existing signage would be removed above the shop entrance. Replaced with a band of royal purple and the business name.
Philippe has knowledge of aluminium tray signs and initially asked about maximum sizes. I explained the properties of different sheet materials and how tray signs are made. At nearly eight metres in length, we wanted as few joins as possible.
I sought advice from John Rennie. John makes the occasional sign tray for me. We decided the best product would be made out of welded aluminium and chose to subcontract Smith to make the aluminium tray.
Smith is a sign trade manufacturer and the oldest sign maker in the UK. Their knowledge and expertise are exceptional. I've worked with Smith for many years and trust their ability to manufacture.
The tray was made in two halves and delivered to me in January 2022. I flooded the tray with rich purple vinyl and wrapped it around the edges of the tray. Vinyl lettering was then applied on top.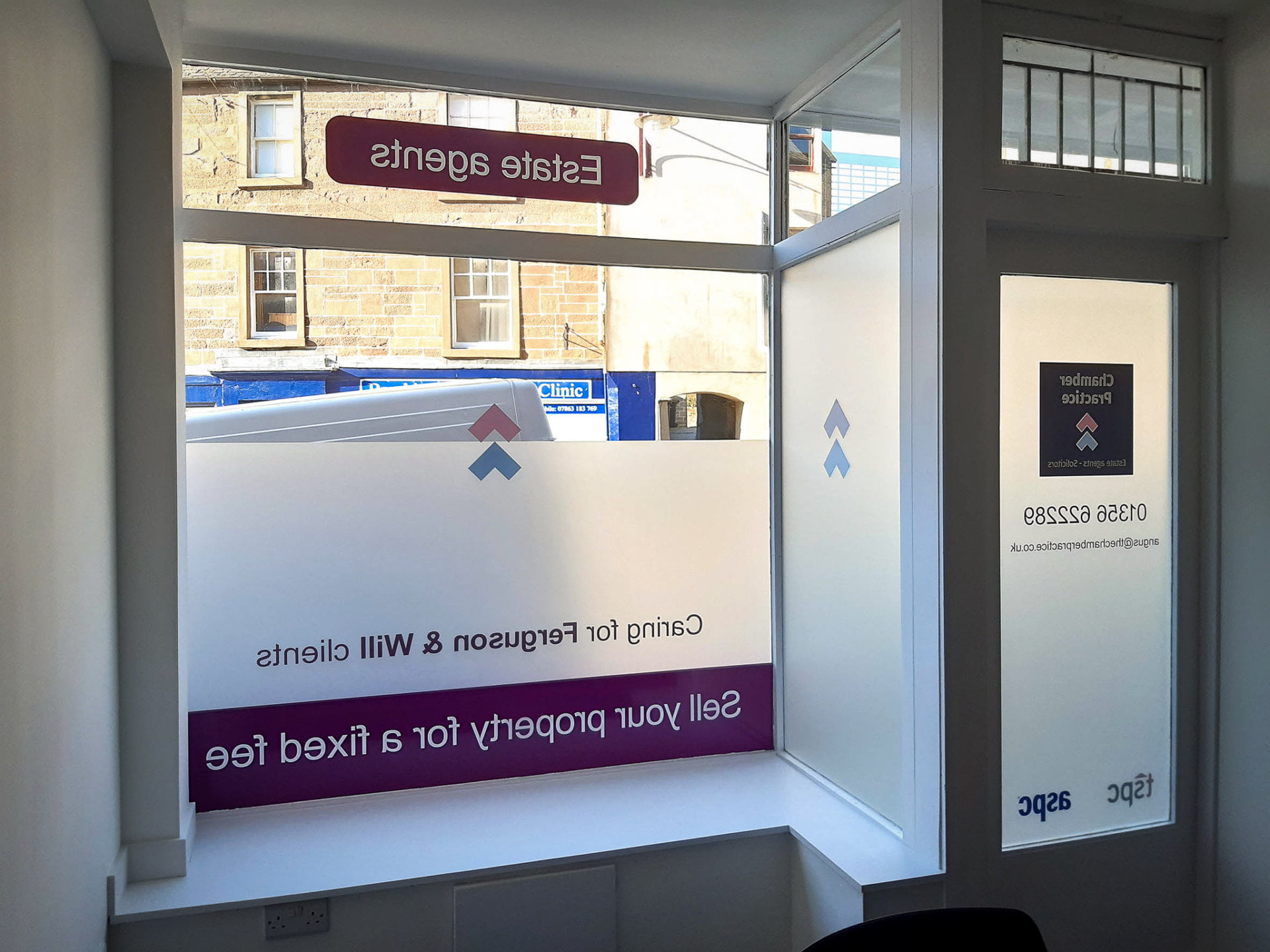 Installing window graphics
Close to the opening date, I visited the shop over one weekend.
Day one was spent cleaning the glass and applying all of the text and bands of colour. Day two was spent applying the etched vinyl on the glass. The etched vinyl provides privacy and allows light to pass through.
Window graphics made the shopfront come alive and look more like an office.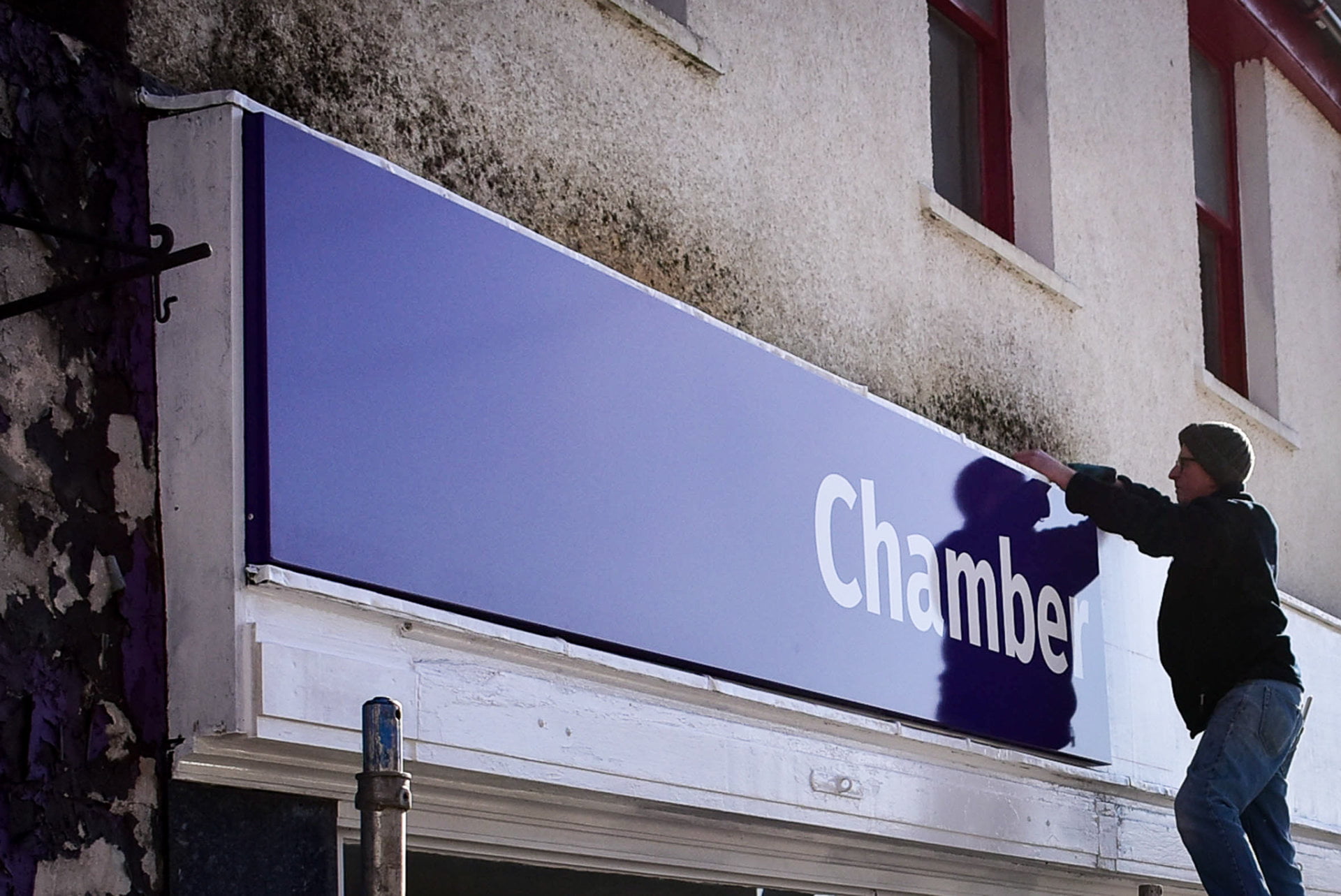 Installing the fascia sign
With an eye on the forecast, we arranged the fascia sign installation. Each tray half was carefully packaged to protect the thin aluminium in transit.
John and I have worked together for around fifteen years and understand each other. His skills include signmaking and installing large signs. We were both ready for the installation and our process began with building my scaffold.
The fascia area was tight. The angles which carry the tray had to be fixed inside the hardwood edged plywood fascia. The plywood had to be the same rectangular shape as the aluminium tray, or the sign wouldn't fit. There was little tolerance for manoeuvre.
My measurements and planning were spot on. The tray joined and each vertical edge gently kissed together. It was a beautiful moment.
Elated, both John and I dismantled the scaffold, leaving Brechin and Chamber Practise with their new shopfront.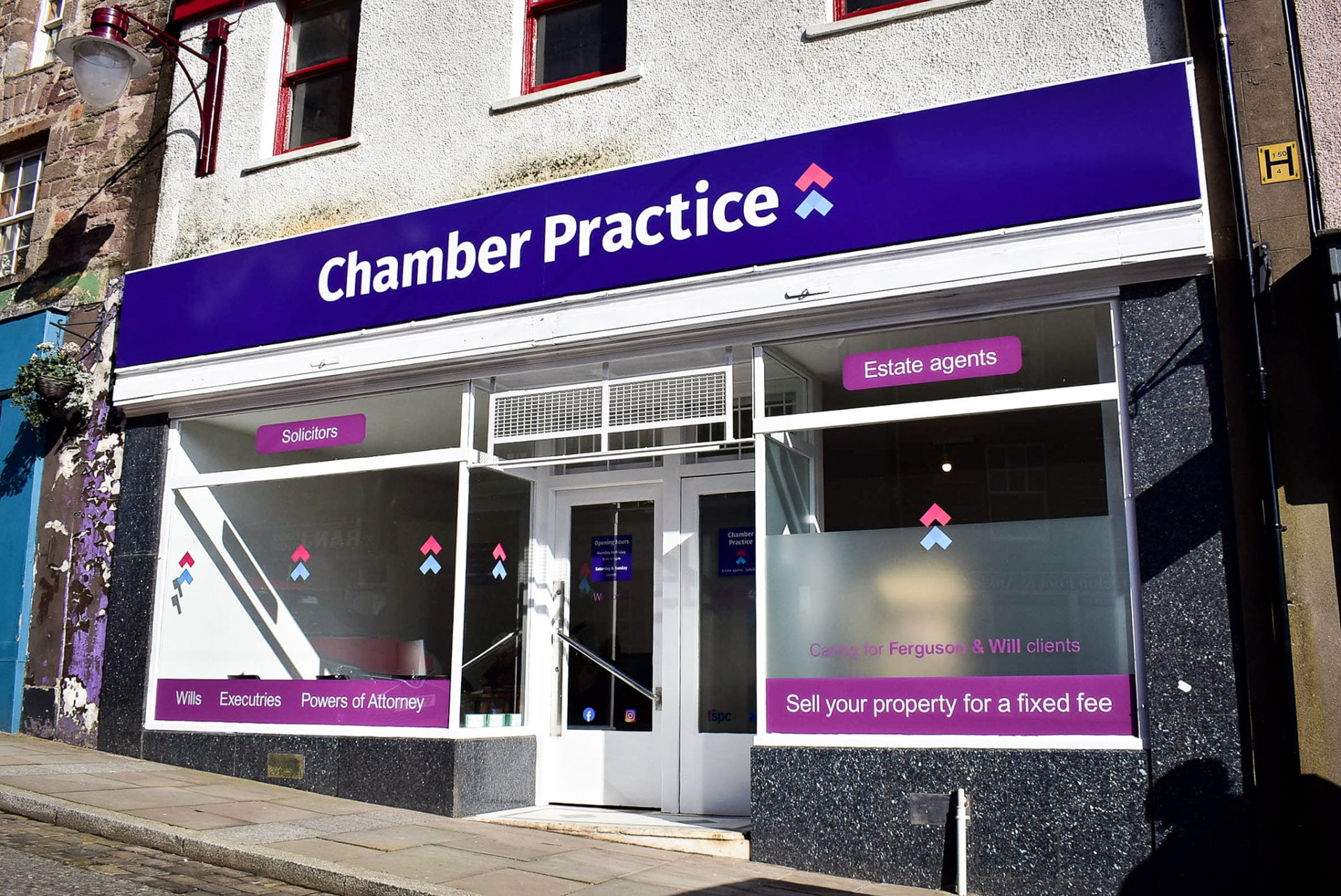 I create signs for Dundee businesses across the northeast of Scotland. Get in touch to find out how I can help you.